Webinar Replay: Contact Centre Morale
We may use your personal information to send you information you have requested. Permission lasts for 24 months. Permission can be withdrawn at any time.
Happy employees make happy customers. It's an old cliché, but it's a cliché for a reason.
Countless statistics show the positive impact that happy, engaged customer service staff have on customers. But, how can we turn these figures into a reality?
In this webinar, we show you what contact centres are doing to increase morale amongst their team - with everything from simple tips to sophisticated strategies to galvanize your workforce.
Agenda
Introductions – Rachael Trickey, Call Centre Helper
Carolyn Blunt, Ember Real Results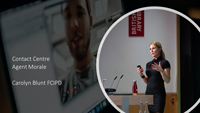 Click here to view the slides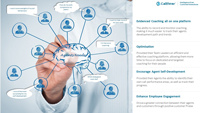 Click here to view the slides
Webinar Timeline
0:15: Introductions – Rachael Trickey, Call Centre Helper
3:16: Carolyn Blunt, Ember Real Results Presentation
13:32: Poll with results from the audience. Asking "Which of the Following is NOT a Good way to Praise Someone?"
25:55: Poll with results from the audience. Asking "Which of the Following Skills and Behaviours are Most Important for Your Agents to Have in 2020?"
26:00: Take-aways from Carolyn's presentation
26:48: Quiz
30:23: Top Tips, Opinions and Questions from the audience
36:46: Mark Lockyer, CallMiner Presentation
53:20: Take-aways from Mark's presentation
54:04: Top Tips, Opinions and Questions from the audience
59:34: Winning Tip
Panellists

Carolyn Blunt
Ember Real Results
Mark Lockyer
CallMiner

Rachael Trickey
Call Centre Helper
Topics to be discussed
Creating happy advisors and happy customers
The modern ways to motivate your team
Helping your people meet their potential
Gamification and having fun in the contact centre
The role of technology
Top tips from the audience
Winning tip – "We send out 'sunshine' compliments to agents and include the senior leadership team in the compliment email when we receive positive comments from clients about an agent. Send Spot On valued awards for positivity, going the extra distance to provide client support, improving KPI's etc to give additional praise" thanks to Sandra23
Original Webinar date: 11th June 2020
---
Speaker Biographies
Carolyn Blunt | Ember Real Results
As a recognised industry expert in contact centres I lead a team of dynamic consultants to deliver learning and coaching programmes for corporate brands.
We dig down into the culture of the client contact centre and study the end to end customer experience. From this we quickly identify ways to improve customer experience, sales and efficiency. We delight in removing repeat call volume, simplifying customer contacts and utilising the best of self service and omni-channel strategy. We help you improve your front line recruitment, retention, knowledge and empowerment. We recommend the right technology solutions, advise on strategic thinking and best practice and ultimately deliver bespoke, large scale learning interventions that deliver demonstrable ROI.
We design and deliver interactive learning events for all levels. We work with Quality teams to redesign their framework and calibrate their standards and coaching skills. We work with Team Managers to ensure their leadership and management skills are fully supported. We work with Senior Managers to guide them to the right technology solutions and help them to gain a quantum leap in their contact centre metrics.
As an author in Social Customer Service I also assist brands with their digital customer strategy, encompassing social, live chat, community engagement, video, self service and crisis management.
Connect with Carolyn on Social Media:
Linkedin
Mark Lockyer | CallMiner
With 20 years in the ever changing Contact Centre and Client Engagement spaces, Mark has worked with some of the largest Global entities on transformation projects ensuring technology delivers on expectation. Passionate about bringing Agent and Customer Evaluation together through the power of Speech and Engagement Analytics Mark can draw on successful client projects that have delivered exceptional ROIs and Transformational change across entire organisations. Notable Brands – Dell, Orange, Ageas, Directline, Teleperformance, HSBC, TeliaSonera, E.ON, BNP Paribas.
Connect with Mark on Social Media:
Linkedin
|
Twitter
---
Sponsored By