Ofcom has taken informal action against 22 companies.
Silent calls likened to the corporate equivalent to "knockout ginger".
On Monday the Parliamentary committee approved an increase in the fine for silent calls to £2 Million.
One MP, Kevin Brennan, likened silent calls to a corporate equivalent of "knockout ginger", a children's game of knocking on people's doors and running away.
"Corporate nuisance calls are the telecoms equivalent of that game. What happens is that companies, operating legally in the United Kingdom, phone up citizens in their homes in the full knowledge that a percentage of those phone calls will result in a nuisance, silent call or an abandoned call leading to a recorded message, rather than to a human being at the other end of the line. That is part of the business model," he said.
Consumer frustration
The committee debate highlighted the general frustration with silent calls.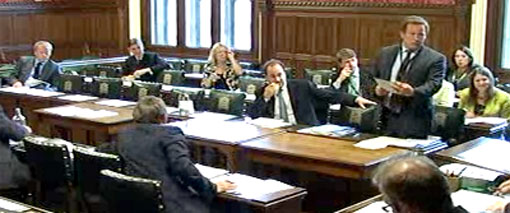 The Communications Minister, Ed Vaizey, highlighted the thousands of consumers who have been 'plagued' by nuisance calls.
In the three months to June this year, more than 5,000 concerned consumers contacted BT's nuisance calls bureau. In addition, in the first half of this year, Ofcom received just fewer than 2,500 complaints about silent calls and about 6,000 last year.
Last month, a survey on cold calling by Which? magazine found that a third of 2,000 consumers had received silent calls. In the previous Parliament, 64 Members signed an early-day motion to highlight their concern about the nuisance.
"There is, therefore, a requirement for us to take effective action to ensure that consumers are adequately protected", said Mr Vaizey.
Where to report concerns
Mr Vaizey suggested that concerned consumers should report their concerns to BT's Nuisance Calls Bureau on 0800 661 441. He indicated that he intended to discuss with some phone companies putting clear messages on phone bills so consumers know where to complain about nuisance calls.
Companies need to be seen to be punished
There was growing frustration that Ofcom needs to be taking more action to reduce silent calls.
Ofcom was reported as having taken informal action against 22 companies since 2008.
MP Lorely Burt said, " It is important that companies are seen to be punished. I urge the Minister to review his statement that Ofcom will use prosecution only as a last resort. The problem is that a gently, gently approach … has not necessarily worked in relation to eliminating this disturbing and unpleasant practice."
3 percent is an 'acceptable guideline'
The Communications Minister, Ed Vaizey, indicated that 3% was an acceptable silent calls guideline for the industry. He did look quite surprised when MP Kevin Brennan highlighted that on 11 Million outbound calls this would equate to over 340,000 nuisance calls.
The motion to increase silent calls to £2 Million was approved unanimously.
In reaction to the debate, Silent Calls Campaigner David Hickson commented, "The public interest, and the reputation of the call centre industry needs to see a clear distinction between the wholly unacceptable practice of hanging up in silence and other unwanted or badly handled calls. Ofcom should take clear and firm action to outlaw the former, for which there is no justification. Those who believe, like Ofcom and apparently Parliament, that some silent calls should be tolerated should stand up and say so."
You can watch the debate online at Parliament TV
You can also read the debate in full
---
Do you think that Ofcom should do more to use its powers? Do you think that the 3% limit is acceptable?
Please leave your thoughts in an email to Call Centre Helper
Published On: 15th Sep 2010 - Last modified: 2nd Jan 2020
Read more about - Archived Content
---
---