A new company is looking to reduce the levels of stress on contact centre agents.
Stressonhold is a new company that has developed a solution that not only measures individual stress within the contact centre, but which can also reduce it.
Their Stress Monitor solution works on the simple premise that to manage stress you must first be able to measure it. Stressonhold has developed a unique biometric monitoring service which allows you to scientifically measure individual stress. Using biometric sensors, they can measure an individual's stress level at the desktop whilst they carry on working normally, without disrupting their normal working patterns.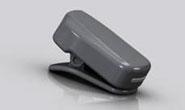 It works by clipping a small wireless sensor to the agent's ear which uses light to measure an individual's stress levels, collecting around 1000-1200 individual readings within a typical ten-minute session.
With the ability to measure individual stress levels, they can then proactively work with their clients over time to manage them.  By managing stress levels in this way the contact centre can reduce absence and attrition levels, increase employee motivation and performance and generally enhance  both health and wellbeing of agents and supervisors and overall customer satisfaction.  This ensures that stress remains a positive business dynamic rather than a negative one.
The Human Resources VP of an outsourced contact centre said "The (HRV) evaluation carried out by Stressonhold of a group of sales advisors provided valuable insight into optimum stress levels and performance. This research was complementary to our Health and Wellbeing Strategy"
---