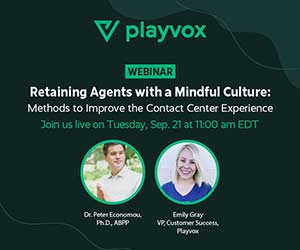 About the Event
Live on Tuesday, Sep. 21 at 11:00 am EDT
While we all navigate an ever-changing definition of normalcy, you and your agents also need to feel a sense of wellness. How can we best support a quality of life for our team members, customers and ourselves?‍
Take a deep, healing breath with us and Cognitive and Behavioral Therapy Board Certified Dr. Peter Economou on Tuesday, Sep. 21. Dr. Pete is a certified mental performance consultant and founder of the Counseling and Wellness Center. You don't want to miss this opportunity to recognize the ways extra stress shows up in our work, build your and your team's mental and emotional resilience, and better manage your day-to-day during these trying times. Your customers, your agents, and you, yourself, will thank you!‍
BONUS: the first 200 registrants will receive a free copy of Dr. Pete's Mindfulness Workbook for Beginners: Exercises and Meditations to Relieve Stress, Find Joy and Cultivate Gratitude.
You'll Learn:
Principles to improve productivity of your contact centre staff
How to integrate wellness and mindful practices into your contact centre culture
Strategies to develop a mindfulness practice
Date and Time
Starting:
Tuesday 21st September 2021
Organisers