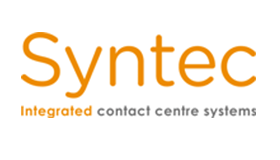 Syntec provides an integrated suite of telephony and managed services including its patented CardEasy secure payment solutions for voice and digital channels.

Contact Name: Danny Cresswell
Tel No: 020 7741 2007
Contact Email: sales@syntec.co.uk
Profile:
Managed services for secure, cost-effective and customer-focused contact centres.
Founded in 1998, Syntec is a Coalfire-verified PCI DSS level 1 Visa merchant agent and participating member organization of the global Payment Card Industry Security Standards Council (PCI SSC).
CardEasy Secure Payment Solutions
CardEasy 'keypad payment by phone' (DTMF masking) de-scopes your contact centres, call recordings, agents and remote workers from PCI DSS monitoring and controls. Sensitive card information is hidden from the agent who can remain in conversation with the customer throughout the call.
Customer self-service (IVR) and Automated Speech Recognition (ASR) options are available, as well as CardEasy Digital for PCI-compliant payment by alternative communication channels such as e-mail, SMS, webchat and chatbots.
Telephony Expertise
As an Ofcom-regulated network switch operator, Syntec can handle your call traffic via digital interconnects (PSTN) as well as VoIP and SIP. Additional network-level services give you full control, including call recording, IVR and AgentCall for co-ordinating your contact centre agents and remote workers, with real-time reporting and display.
Social Media:
Twitter Handle: @synteccontact
LinkedIn Company Page: https://www.linkedin.com/company/2600602/
Facebook Page: www.facebook.com/synteccontact
Address: 18 The Avenue, London W13 8PH
Weblink: www.syntec.couk
Categories:
Analytics
Call Handling and Answering
Call Recording
Contact Centre solutions
PCI compliance
Virtual Contact Centre and Homeworking
Voice of the Customer
---