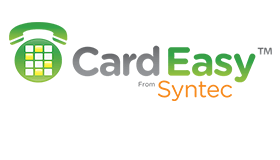 Multi award winning payment solution for contact centres.

US Sales: +1 303 500 0492
UK Sales: +44 (0) 20 7741 2000
Contact Email: sales@cardeasy.com
Profile:
Whether your customers prefer to pay over the telephone or via email, webchat, SMS or any other digital channel, CardEasy provides a simple and secure payment solution, which is also compliant with the Payment Card Industry Data Security Standards (PCI DSS).
Leading brands utilize CardEasy to provide a secure payment solution for their customers which not only significantly reduces the risks and costs associated with processing card payments, but improves customer experience and trust in their brand.
CardEasy is available globally and can be deployed alongside your existing contact centre technology. It can be easily integrated with any CRM and/or payment application and is already integrated with a large number of leading payment and tokenization gateways.
We are passionate about our industry and very proud of our award-winning CardEasy solution. For further information or to arrange a free demo, please contact us using the details below.
Social Media:
Twitter Handle: @synteccontact
LinkedIn Company Page: https://www.linkedin.com/company/syntec-ltd/
Address: Ealing Studios, Ealing Green, London, W5 5EP, UK
Weblink: www.cardeasy.com
Categories:
Call Centre Software
Cloud Solutions
Contact Centre Solutions
IVR
Multi-channel communications
PCI Compliance
Virtual Contact Centre and Homeworking