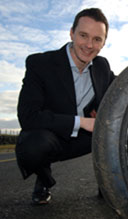 Innovative online tyre retailer Blackcircles.com is aiming to attract thousands of new customers in 2008 with the launch of its Price Smash initiative that will see it open an expert call centre operation.
The move follows a review of Internet trends over the last year where customers are being seen to compare prices online but still desire to speak with someone for expert tyre advice.
This has led the tyre firm to recruiting new staff and investing in a state-of-the-art telecoms system, along with re-training for existing staff, that will transform its Peebles headquarters.

Mike Welch, Managing Director of Blackcircles.com, said: "One of the themes we have picked up from customers is that the Internet does not talk back to you and we aim to change that.
"Our research has shown that people feel there is a general lack of access to expert advice within the tyre industry. By offering an expert call centre operation we believe we can win more business by making the experience of purchasing tyres far more interactive.
"As well as giving customers immediate expert advice, our staff will be able to check current market prices across the web and do far more deals. Our aim is to ensure customers are coming to Blackcircles.com in the confidence that they are getting the best possible service and price."
Mike also believes there is an opportunity to better connect with significant numbers of drivers through the new expert call centre operation.
While ordering online has become second nature for many, Mike believes that for the foreseeable future there will still remain a demand for more traditional purchase methods.
"A significant number of drivers are used to going to garages and talking directly to service assistants," he said. "While they are prepared to use technology to equip them with information, they still want to ask someone for advice and to make the final deal."
The introduction of the new call centre comes as Blackcircles.com further enhances its senior management team with the appointment of Mary Lewis as Head of Operations.
Having worked in both the public and private sectors, Mary has over 15 years experience of operations management in a wide range of sectors including retail, the Scottish Government, local government and the pharmaceutical sector.
Mary said: "I am looking forward to enhancing our call centre operations and will be overseeing the training of staff to ensure we are delivering the standard of customer service for which Blackcircles.com has become renowned."
Launched by Mike Welch in 2001, Blackcircles.com has experienced year on year growth with turnover topping 8 million in 2007. Selling to around 100,000 customers, the company generates 30-40% referred business every month.