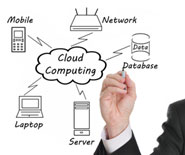 Luxoft has predicted that cloud computing, whether used in a storage capacity or to greatly decrease carbon footprints, will experience significant growth, in both the public and private sectors over the next 12 months, specifically in the area of internet services. 
The following tips have been developed by Vice President of Technology Strategy at Luxoft, Vasiliy Suvorov, to help businesses looking to use cloud computing effectively over the next 12 months.
Know where you stand right from the beginning
Cloud computing is emerging as one of the hottest technologies for IT, with an increasing number of organisations looking to the cloud to simplify and streamline their technology infrastructures while holding the line on costs.  However, diving in with both feet isn't always the best approach. Having a plan right from the start is crucial to getting the most out of the transition – and minimising the risk. Consider the following tips before making your first move.
Define what it means to you
There is no single all-encompassing definition of cloud computing. Before doing anything, decide which one of the various categories of cloud computing – including SaaS (software as a service), cloud-based storage, infrastructure in the cloud, or platform as a service – most closely matches your specific needs.
"When you say cloud, it's an umbrella term," says Vasiliy Suvorov.  "You need to decide which cloud offering you want before you go any further."
Compare features and prices
Researching the alternatives is largely dependent on how complex the implementation will be. Simple cloud storage-based offerings, for example, are priced on a per-megabyte/gigabyte, per-month basis, along with additional charges for submitting or migrating your data onto the vendor's platform. More involved application- and platform-based solutions will necessitate more complex pricing and feature comparisons.
Decide where you are on the cloud computing continuum before you begin applying selection criteria to features and prices.
Plan for the future
You may just be getting started, but vendor lock-in is a very real risk if you're not careful. A key lesson for IT in this fast-moving market is to build a longer-term roadmap than you think you might otherwise need.
"As vendors and the market in general become more mature and their offerings become more commoditised, there will be more opportunities," says Suvorov, who adds that the price/feature curve will continue to sweeten. "You may want to move elsewhere as prices come down. The scenario needs to be analysed for exit, as well, as you want to be able to move data out just as easily as you move it in."
Check your tools
Tools that support conventional infrastructure don't always translate into the cloud. Make sure you have the right tools in place to take advantage of cloud-based solutions.
"All cloud offerings except storage require extensive toolsets provided by third parties to integrate the data, integrate the physical to the virtual, support scalability, and provide monitoring capabilities," Suvorov says. "Make sure you have administrative toolsets that cover the entire cloud-based ecosystem."
Change your security roadmap
Cloud-based solutions force new approaches to managing IT security. While this is crucial for any organisation, it is especially so for those in sectors such as financial services, health care, and government, which are subject to greater regulatory oversight.
"Right now, no standardisation for security exists between different cloud providers," Suvorov explains. "It depends on what cloud you use and who you work with."
Suvorov adds that some providers, especially SaaS vendors, are more advanced than others.
"Whoever you go with, the important thing is to make sure you're in control of who has access to your applications and all the data that's going in and out of them," he says. "Remember, that's your accountability, not theirs."
Prepare your people
This is perhaps the most important tip of them all.  Although most IT shops can easily handle simpler cloud deployments such as storage with minimal retraining, more complex scenarios such as application migration may require different skills.
"If you're deploying your apps into the cloud, in an environment where you need scalability, where you need to involve those IT resources who are responsible for maintaining and even developing your apps, then it gets a little more complicated," says Suvorov, adding that IT staff may need to learn new APIs as they begin tuning apps for the cloud and integrating data on both sides of the firewall.
---
---