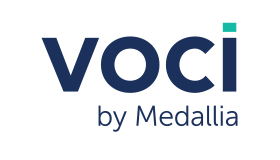 Voci's advanced AI-driven speech to text engine powers the future of customer voice analytics.

Contact Name: Stephanie DiPaolo
Tel No: 412-621-9310
Contact Email: stephanie.dipaolo@vocitec.com
Profile:
Voci is committed to delivering innovative solutions that enable you to develop voice data applications designed for the contact centre. Our GPU-accelerated, deep machine learning speech technologies feature open APIs that integrate easily with multiple audio sources, telephony providers, and call recording technologies. They provide best-in-class transcription accuracy with the lowest total operating cost available in the market.
Social Media:
LinkedIn Company Page: https://www.linkedin.com/company/voci-technologies
Facebook Page: https://www.facebook.com/VociTechnologies
Address: Burns White Center, Suite 100, 48 26th Street, Pittsburgh, PA 15222
Weblink: www.vocitec.com
Categories:
Agent Coaching and Monitoring
Call Centre Software
Contact Centre Solutions
---
---