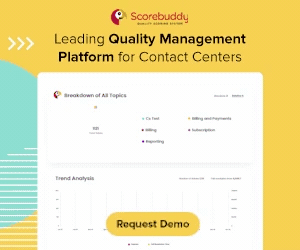 Date: October 12, 2022, at 4:00 PM BST.
The retail market has seen significant change in the last three years due to clogged supply lines, increased costs, low retention of skilled workers, and fluctuated demand.
Retail businesses find it challenging to meet these escalating demands and manage customer expectations simultaneously. In 2022, customers want a seamless, personalized interaction—every single time.
During this webinar, we will discuss the seven steps your organization must take to deliver excellence to your customer, including:
Upgrading Agent Management Strategies
Transforming CX to Meet New Expectations
Understanding Customer Experience Trends in 2022
Join us live on October 12, 2022, at 4:00 PM BST. If you can't it at that time, be sure to register so we can send you the webinar recording
Click to Register: https://www.scorebuddyqa.com/resources/7-steps-retail-cx-webinar