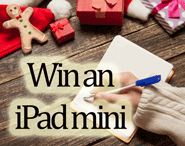 Take part in this Christmas 'Wish List' survey and win an iPad mini.
This survey is now closed.
Business Systems want to know what is on your wish list this year.
What do you think will be your biggest customer service and employee engagement challenges in 2015?
Which customer contact channels will dominate?
Which technology will help gear you up to meet some of the challenges ahead?
Take part in this 5-minute survey – by Wednesday 10th December – to be entered into a free prize draw for an iPad mini and receive an advance copy of the results.
"As planning for 2015 gets under way across most organisations at this time of year, we're keen to hear your thoughts on the year ahead," said Tracy McAvoy at Business Systems. "Now's the time to start anticipating what action can be taken to get the most out of your contact centre next year – and it's only when we identify the challenges that we can start thinking about how best to address them and share tips on how to deal with the most common issues."
Terms and Conditions
An iPad Mini will be delivered to the winner of the prize draw, subject to the supplier being able to deliver to the country/location of the winner. If not, a prize of equivalent value will be provided and delivered. The prize will be non-exchangeable.
People partaking in the survey should be a contact centre professional, currently working within a contact centre, please use a work email address where possible, when completing the survey to help us verify this, those who do not, may not be entered into the prize draw.
The winner will be drawn by Call Centre Helper and their contact name and company published on the website.
The prize draw will take place and the winner announced on Thursday December 11th 2014.
All people partaking in the survey will get a final copy of the results gathered and any subsequent report created.
---