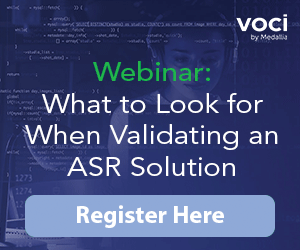 As automated speech recognition (ASR) technology became more affordable, powerful and reliable in recent years, it has transformed how customers and organizations can interact, drastically improving contact center operations and customer service. Now, contact centers are discovering the immense possibilities and use cases that could optimize their operations and, more importantly, differentiate their businesses by allowing them to deliver the best customer experiences while improving their bottom line and Cost of Good Sold (COGS).
In this webinar, you'll learn what to look for when shopping for an ASR solution:
Comparing technology options and capabilities
Evaluating the quality of your audio
Assessing the ease of integration and completeness
Selecting a single, powerful, and flexible ASR solution is an investment that reduces long-term costs while expanding horizons.
Join this webinar to learn the key considerations before choosing a solution.
Seats are limited – register today!
---