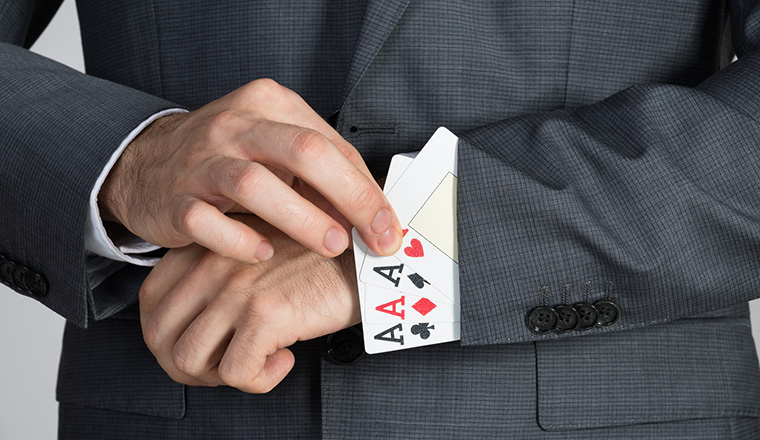 Call Centre Operation – Why agents play tricks.  It's a dogs life in many call centres – so is it any surprise that agents drop calls and play other tricks. Shusmul in Bangalore explores why agents play tricks with callers.
Its not all about the pay package clubbed with perks, and weekend parties. There's more to it than meets the eyes. There are many of you out there who have visited a call centre, and left the place much impressed by its décor, and the architecture. But the few who have ever set their foot on the floor know the other side of the story.
It's a different world altogether.
Rows of two-feet by four-feet cubicles run from one end to the other, all of which are filled by agents who are either busy responding to customer queries, or blabbing out a memorized sales pitch to an unwary listener.
The call centre executives making, or receiving, the calls are supposed to adhere to strict guidelines. While each and every action of the executives is monitored through the CCTV cameras, their conversation with the customers also gets recorded. They have a specific AHT (average handling time) that they have to stick to. The AHT ranges from 3-4 minutes to several hours, depending upon the type of the work handled by a call centre. Exceeding that time calls for an explanation, and affects their incentives, as well as performance reports.
As the clock struck 10 at night, Sonalica, alias Angela, thrust herself into her seat to start her shift. The flow of calls starts immediately; it does not give her time to warm up. There are personal thoughts coming to her mind, but she can't afford to ruminate over them at this moment. She says to herself that her thoughts will have to wait till the dawn. For the time being, she had to live from one beep to another. Just a couple of days ago she had been told by her supervisor, "It's not about social skills, but survival skills!" But she knows that the initial excitement of joining a call centre is now wearing off.
The fact lies that the amount of stress faced by the call centre executives is having its toll. On one-side lies the pressure of maintaining strict quality standards, while on the other are irate customers hurling abuse. Caught between the devil and the deep sea, what many agents do is leave the call unattended or drop the call after picking it. So now when the executives are asked for ways to shoot up the performance out comes the thought, "Let's play some tricks!"
Not surprising then, that American consumers lose more than $40 billion a year due to representative tricks. And many of them are irritated because of constantly being referred to other phone numbers, or their calls are being terminated abruptly. All this is due to the tactics the agents are employing. While the agents get innovative in their tricks, such as
call waiting, and swapping the answer and hang-up keys, it leaves the caller infuriated and grumbling.
Shamus (25), working with one of the eminent call centres in Bangalore, when enquired why he hung up on callers, promptly responded, "Most of the time, it's the irksome, unsatisfied caller who has not been cared for, as well as to create a bit of cushion time". Add to it, the constant reminders of maintaining the AHTs and the outcome you get is 'unsatisfied customers'.  It is for the sake of AHT, that a call centre would rather prefer a customer to make four short calls for four different issues, rather than getting them resolved at one go.
Let's slip a little more, here's another trick that the agents often use.  The source of information, quite obviously, remains anonymous. Many a times there is an irate caller, who, either due to his/her dissatisfaction, or due to the gravity of an error, wishes to talk to the manager. The standard answer one gets is that the manager is busy in a meeting. But in reality, such "sup" calls cause a flutter on the floor. And more often than not, when you get to hear the voice of the manager, it's just another executive, usually a little senior, faking as a manager. The reason is simple. As soon as a call becomes a "sup" call, it immediately asks for an explanation, and also affects the performance report.
Believe it or not, many times the managers, refuse to take the calls. They prefer to use the time for their hordes of paperwork, preparing reports, crunching numbers, and in keeping track of the thousands of calls per shift. As Ritesh (28), who is working in a leading call centre based in Noida for the past one and a half year, quips, "Most of the time, I am not given a direct call because my TL (team leader) wants me to take the "sup" calls. And I don't have any problem with that as long as my TL takes care of my performance sheet".
But the managers, when asked on these issues, choose to give the reason of overload, and point out that such snags are occasional. Manesh Mathew, director of HR consultancy PeopleEquity, elaborates, "…when your call centre has reached its capacity – more incomplete calls, service snafus, and flaring tempers on both ends of the phone line. But even if you're not over capacity yet, you need to keep on the alert for warning signs of potential overload".
If overloading be the genuine reason, it can be only for a few days, or only in a particular season.  Otherwise, the centre is too understaffed to handle the workload.  Either way, the management needs to increase the number of executives
to serve customers efficiently, and to their satisfaction.
Published On: 1st Oct 2004 - Last modified: 21st Feb 2019
Read more about - Archived Content
---
---