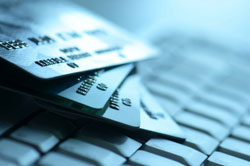 Many banks in Britain increasingly use call centres for advising their customers: but with mixed success in the eyes of their customers.
In a recent Maritz Research poll, eight out of ten surveyed (76 per cent) prefer to settle their financial transactions on the Internet. This is particularly true of higher-income earners with an annual salary of over 50,000 pounds, who tend to look after their banking needs online.
Only one in ten people who have used the call centre of a bank or credit card company felt the experience was convenient.
There are various reasons for dissatisfaction with call centres: for instance, 66 per cent of those surveyed would say that customer service representatives aren't easy to reach. 56 per cent do not consider the call centre agents to be sufficiently trained. Only 7 per cent indicate that they have confidence in the call centre agents.
"These are alarming figures. It indicates that financial institutions need to invest in processes that not only ensure the customer reaches a person who can resolve their query straight away, but provide the required training to support this," says Dawn Ray, General Manager Research UK. "On the telephone it is more difficult to quickly build up a trusting relationship than it is face-to-face. But we know this is particularly important, especially where finances are concerned," Dawn adds.