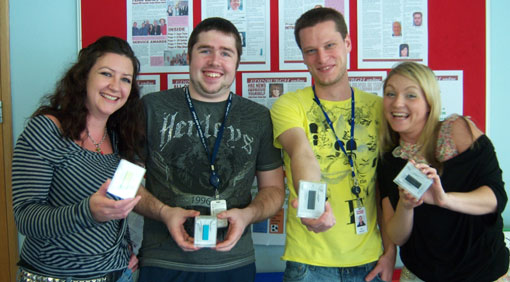 Yorkshire-based health and wellbeing company Let's Get Healthy helped over 200 call centre workers at Sykes Global Services in Edinburgh to improve their overall health and reduce absence caused by sickness.
The company worked with Edinburgh-based outsourcing service centre, Sykes, to develop an employee health and wellbeing programme for the company's 500 telesales agents.
One of the programme's aims was to encourage maximum employee participation as the company employs a high percentage of multilingual people to service its many different international clients.
Employees took part in surveys asking questions on lifestyle, eating habits and levels of exercise.  Teams also took part in pedometer challenges, where over 22 million steps (10,000 miles) were clocked up over a five-week period.
Over 98% of staff wanted to improve their health with nearly half (42%) stating that they suffered from low energy levels and disturbed sleep.  61% of those surveyed didn't eat breakfast and also suffered from low energy dips during the day.
Over half (53%) were classed as overweight and/or obese, with nearly three-quarters (73%) doing little or no exercise and regularly eating sugary snacks.
Alice McGill, Business Support Manager at Sykes, commented: "Employee wellbeing is absolutely key to us at Sykes and this five-week programme really helped us gauge the health issues that some of our staff face.
"We completed blood pressure checks and one of our managers, who considered himself fit and healthy, found that he had critically high blood pressure.  Identifying this early resulted in him being referred to his GP which prevented any long-term damage being done."
Maria Bourke, managing director of Let's Get Healthy, comments: "We're delighted to have partnered with a company that puts employees' health at the top of its agenda.
"It is well documented that Scotland has high levels of obesity in adults and we intend to work closely with the team at Sykes to help their employees achieve a healthier lifestyle.
"We know how imperative it is for companies to recognise the importance of helping staff remain healthy and we also know the financial rewards this can bring in terms of reducing sickness and absenteeism."
The employee health and wellbeing programme gave Sykes an insight of particular areas that needed addressing and recommendations on healthy eating education and advice on how to maintain a healthy lifestyle.
Published On: 5th Jan 2011 - Last modified: 22nd Mar 2017
Read more about - Archived Content
---