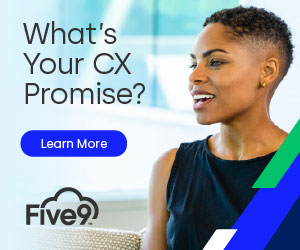 Dan Burkland at Five9 explains that as the cost-of-living crisis forces customers to tighten their belts, effective and receptive customer service remains the key to maintaining success.
Focusing on customer experience (CX), even through periods of economic instability, can increase a company's profitability by up to 2% and shareholder return by up to 10%.
Business leaders are now faced with difficult decisions, and CX teams must ensure they are looking at three key goals: reducing expenditure, increasing empathy with customers, and prioritising adaptability in an ever-changing environment.
Businesses are facing waves of resignations as talent teams struggle to source and retain employees. It's not just the well-being of customers that CX teams need to consider – it is their employees too.
When employees are motivated and knowledgeable, they are able to give better customer service, resulting in improved customer experience – but that only comes from improving the employee experience (EX).
Investing in new areas might initially seem counterintuitive during economic turbulence. But compromising on CX directly impacts brand loyalty – nearly a third (32%) of customers stated they would stop doing business with a brand after just one poor experience.
A recent study of business decision-makers identified key strategies in helping businesses to transform the experience of their call centre agents, and consequently, customer experiences.
Enabling Interactions at Speed
The CX study found that while 86% of contact centre decision-makers report an increase in the volume of interactions, 72% also note an increase in agent turnover.
Contact centres are clearly a casualty of the Great Attrition, with employees reevaluating their approach and demanding greater flexibility, more remote working options, and a stronger focus on well-being. In fact, more than half (54%) of contact centre employees are not willing to go back to the office full time.
Therefore, organisations must look to cloud-based technologies to offer a seamless agent experience from home to office. With all customer data and comms in the cloud, agents can securely access the information they need, wherever they choose to work.
However, it is not just a question of making your organisation more attractive to retain and hire agents, but also ensuring that you have the technology in place to cope with this deluge of interactions at speed.
Currently, less than half (47%) of contact centres are starting to adopt AI to provide agent assistance, which is essential for giving employees the information they need to drive quality interactions at scale.
Bringing together human empathy and judgment with the speed and scale of AI offers the best of both worlds for customer service.
More than half (53%) of decision-makers reported that agents need emotional intelligence and empathy, with customer issues becoming increasingly complex, so collaborative intelligence technologies should be a key area for both CX and EX investment.
Making Connections That Count
Empathy has replaced expediency as customers seek a more human customer experience. Customers want and expect agents to truly listen to their needs, understand and identify with their situation and feelings, solve their issues, and answer their questions effectively.
Above all, they want to connect on whatever channel is most convenient for them at that moment. Therefore, businesses must ensure that however customers choose to get in contact, they can resolve these queries simply, quickly and on a variety of channels.
Encouragingly, the majority (95%) of contact centre decision-makers say their organisation provides an omnichannel experience.
In fact, 40% of customer interactions now take place via non-voice digital channels, with 69% expecting more than 40% of customer support interactions to be fully self-handled by 2024.
Organisations are clearly stepping up with expanded digital and self-service options, to provide options that 'meet their customers where they are' and reduce costs.
Yet nearly a third (30%) stated that these channels are not integrated. Organisations must therefore work to bring customer and contextual data together to ensure a seamless experience across every channel.
Fortunately, by integrating all data within the cloud, organizations will create a 360-degree view of each customer to enable seamless experiences across any channel or touchpoint.
Whether customers opt for ever-growing self-service options or want to chat to an agent over the phone, ensuring that the right data is in the right place to inform interactions is essential.
Looking towards the future, it's paramount that businesses act decisively to address CX challenges. Self-service, multi-channel and AI offerings are quickly becoming commonplace for customers – organisations must provide their agents with the right software to work as efficiently and reactively as possible.
By bringing the focus to both employee experience and customer experience, customer loyalty and satisfaction can be maintained, increasing profit in periods when it is needed the most.
For more information about Five9 - visit the
Five9 Website