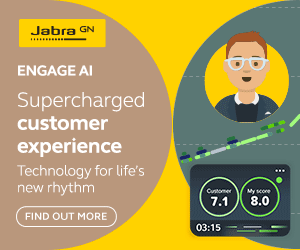 Jabra discuss how to streamline your IT with unified communications (UC) for flexible working.
Remote working is a major challenge for IT teams and infrastructure, but organizations can streamline and simplify their communications and collaboration needs with unified communications.
With technology advancements and global workplace trends, many organizations are already well into their UC journey and fully realizing the multitude of benefits.
But for some it's a new transition. So, let's discuss what UC is, and how it can reduce your IT costs and make you more agile in times of flexible working.
One Place for All Communication
The major advantage of a unified communications system is that it enables people to work more productively and efficiently by integrating different communications tools.
UC software brings together real-time communication technologies like telephony, audio, web or video conferencing and instant messaging into a single interface. This keeps employees, teams and organizations connected and makes it much easier for them to communicate with each other.
Reduce Costs and Stay Agile
Economic uncertainty is at an all-time high, and most businesses are watching their costs and focused on reducing overheads. Communications tools and infrastructure can be significant, but using a UC platform gives you unlimited organizational communications.
On top of that, using UC allows you to save on travel expenses, consolidate software licensing and reduce administrative costs.
Free Up Your IT Teams
UC service providers also build in robust security tools and are responsible for updates and fixes, so you're effectively outsourcing issues that would traditionally have kept your IT department from dealing with more valuable tasks.
Also, when you opt for a cloud-based UC solution, you also save on hardware and traditional physical server maintenance, while benefitting from increased reliability.
Scale With Agility
This is especially critical in times of flexible working. As businesses are reconfiguring or downsizing office spaces, UC makes it easier to onboard new employees, as you can add new seats and instantly connect a team member, no matter where they are in the world.
You're also removing the need to purchase a phone system or other on-premise infrastructure investments.
If you haven't already begun your cloud transformation and UC journey, think about how you are connecting people in your business and whether it could be more efficient.
Consolidating your technologies and adopting UC will save your IT department time, reduce your costs, and allow your business to be more flexible, agile and resilient in the changing business environment of the future.
This blog post has been re-published by kind permission of Jabra – View the
Original Article
For more information about Jabra - visit the
Jabra Website