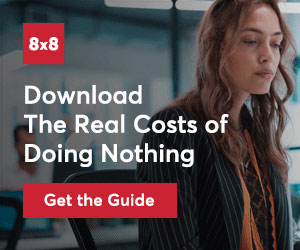 Tricia Morris at 8×8 explains 15 fascinating conversational AI statistics to guide your contact centre innovation.
Today's customers are increasingly turning to digital channels for information, purchases, and support. But even after decades of contact centre innovation, the efficiency and effectiveness of customer self-service has continued to be a point of contention.
Ineffective menus, limited options, and being forced to repeat information multiple times between automated and live agent experiences are just a few examples of why self-service has disappointed.
The good news is that conversational AI is advancing in its capabilities, and it is now able to enhance and progress customer interactions with reduced friction and frustration.
Contact centres are on the precipice of a new era as artificial intelligence (AI) begins to deliver the convenience, consistency, and interaction efficiency that customers demand.
State of Conversational AI in the Contact Centre
8×8 recently surveyed more than 300 contact centre and IT leaders across the United States, the United Kingdom, and Canada about their thoughts on and use of AI, specifically conversational AI, today and in the future.
Here are 15 fascinating statistics pulled from the 8×8 State of Conversational AI Report:
Investment in Digital Self-Service and Contact Centre Automation Is On the Rise
1. 98% of contact centre and IT leaders plan to devote more resources to migrating service volume to digital and self-service channels in the next 12 months.
2. 93% of contact centre and IT leaders consider automation a very or extremely important focus; that percentage rises to 95% among organizations with larger contact centres.
3. 97% of contact centre and IT leaders are interested in applying AI to automate customer self-service.
4. 87% of organizations are interested in applying AI to provide real-time agent assistance.
Expectations for Conversational AI Are High
5. 76% of contact centre and IT leaders say conversational AI/chatbot capabilities are revolutionizing business communications.
6. 87% believe that conversational AI/chatbots increase overall productivity.
7. 72% believe these capabilities will increase company profitability and revenue, and lower company risks.
8. 80% say these capabilities will be table stakes in the near future.
Investments and Improvements Are Already Underway
9. 52% of surveyed organizations have already invested in conversational AI capabilities for the contact centre, with 44% planning to adopt.
10. Only 4% of contact centre and IT leaders say their organization has no plans to adopt conversational AI capabilities.
11. Surveyed contact centre and IT leaders already using conversational AI and chatbots say their implementations have improved agent productivity (94%) and resolved customer issues faster (92%).
12. 87% say that the use of conversational AI in the contact centre has reduced effort for agents, and lowered costs through improved agent efficiency (65%).
13. More than half of contact centre and IT leaders (53%) say conversation AI capabilities have reduced the overall cost of operations at their contact centres.
14. 83% of contact centre and IT leaders also see value for conversational AI outside of the contact centre.
15. For those organizations that haven't yet adopted conversational AI capabilities, 11% plan to do so within a year, 63% within two years, and 27% more than two years from now.
This blog post has been re-published by kind permission of 8x8 – View the
Original Article
For more information about 8x8 - visit the
8x8 Website