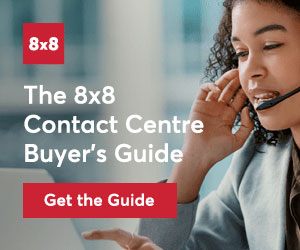 Janice Rapp at 8×8 outlines 2023 contact centre trends and how shared customer experience responsibility will expand.
In 2013, the widely-quoted Walker Customers 2020 report predicted that by 2020, customer experience (CX) would overtake both price and product quality as the leading brand differentiator. That prediction was not only spot on, but it appears it will hold true for the next decade.
According to a recent survey of CX and IT leaders, 46% believe that customer experience will be the leading brand differentiator in 2030, trumping other brand considerations including price, product quality, corporate responsibility, and employee experience (EX).
But with great power comes great responsibility. If customer experience is to become a brand's number one differentiator, it will take more than just the organization's customer service and contact centre teams.
In the same survey, 40% of customer experience leaders surveyed said that by 2030, they believe customer engagement and experience will be the job of everyone in the organization.
Solve for Every X
Company-wide responsibility for customer experience will require an organizational overhaul that goes far beyond just changing taglines and mission statements.
Customer journeys are often nonlinear, touching multiple channels and business units. And within each of these business units are support, sales, billing, and engineering employees (to name a few), all interacting with customers.
If the reality is that customer service and CX responsibility is no longer exclusive to the contact centre—and this is the trending reality—this requires a new "solve for every X" school of thought.
According to McKinsey, more than 70% of senior executives rank CX as a top priority for the coming years.
Companies that effectively organize and manage customer experience can realize a 20% improvement in customer satisfaction, a 15% increase in sales conversion, a 30% lower cost-to-serve, and a 30% increase in employee engagement.
Think Total Experience
Gartner refers to this as total experience (TX). It's about bringing customer experience, employee experience, user experience, and multi-experience together—with a key goal being to share ownership of experiences in a way that improves consistency and reduces friction across both the employee and customer journey.
This goes far beyond omnichannel. And the sum is greater than the parts. Gartner predicts that "by 2024, organizations providing a total experience will outperform competitors by 25% in satisfaction metrics for both CX and EX."
Choose One Platform for Every Experience
The right set of communication and collaboration tools becomes critical in delivering on total experience. Disparate systems can create disconnects cross-departmentally, resulting in frustrating employee and customer experiences exacerbated by siloed tech.
Watch for an increasing number of organizations to adopt an integrated unified communications (UC) and contact centre (CC) solution or move to a UC + CC platform (XCaaS) approach to help eliminate these communication barriers and allow front-office agents and back-office employees to better collaborate and more quickly resolve customer questions and issues.
With increasing organization-wide customer experience responsibility, you'll also see more and more business departments exhibiting contact-center-like behaviors, creating a need to capture customer data at every touchpoint and combine it into a single pool.
In 2022, 8×8 launched Conversation IQ, a quality management and speech analytics solution, to address this very need. Interactions with sales and sales engineering now get captured in the same mix as ones with contact centre agents.
These and a variety of other capabilities such as a unified employee directory with presence status, composed experiences that optimize a collective UX for specific roles, and the ability to integrate key business apps, will allow adopters to more easily share customer experience responsibility and insights across the organization, and as a result, more quickly outperform their competitors in total experience.
This blog post has been re-published by kind permission of 8x8 – View the
Original Article
For more information about 8x8 - visit the
8x8 Website