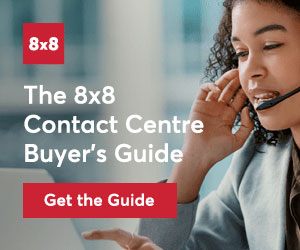 Jessica Smith of 8×8 shares how the contact centre can spread voice of the customer (VOC) across the wider business.
Contact centre agents interact with customers all day, every day. They are the safety net when something breaks down in the customer's experience, and the direct point of contact to deal with the business on a number of matters.
Contact centre agents are truly the business's frontline of service, gathering first-hand evidence about the customer's positive, negative, and even mediocre experiences on a day-to-day basis.
It's imperative that contact centre supervisors and managers gather and share those valuable customer experience (CX) insights, and equally imperative that executives listen.
So how does the contact centre ensure information gathered at the agent level can be delivered effectively to key constituents within the organization?
1. Conduct Round Table Discussions With Agents
Oftentimes the best way to get an inside look at a particular topic is simply go straight to source and ask. A question that can be posed to your agents to uncover some of these valuable CX insights you're looking for could be the following: "What are the biggest customer issues you are encountering right now?"
I guarantee that if you ask a customer-facing team that question and come prepared to listen to their response, you will have pages of notes to improve both the agent and CX.
Conducting round table discussions with contact centre agents is a great way for executives to gain anecdotal feedback about the CX. I highly recommend doing these on a regular basis and opening the doors of your contact centre to anyone in the organization willing to listen.
2. Listen by Walking Around
Manage by Walking Around (MBWA) is an old concept but a good one. And traditionally leaders have been able to pop into the contact centre and walk the floor, overhearing live conversations with customers, and chatting with agents and supervisors about the challenges of the day.
MBWA becomes a bit more challenging when agents are working remotely, but certain aspects of technology are making this easier and easier. Here are two ways to listen in:
Use the monitor feature in your contact centre platform to listen to live calls, and regularly read digital interactions (chat, email, SMS, social media, etc). Or set aside 30–60 minutes per week to listen to recorded calls for a similar effect.
Sign into your collaboration tool and read the group conversations. When an agent takes their tenth call about the same issue, I guarantee they will share their thoughts with the group.
Customers and agents are talking, every minute of every day. It's just a matter of whether or not you're listening.
3. Inject CX Into Every Conversation and Activity
It's not uncommon to see a disparity between quality scores and customer satisfaction in the contact centre. In some cases quality scores can be in the range of 90-100&% while CX is in the range of 60-70% on average.
Given that supervisors are responsible for quality assurance, this essentially says you may find your team to be excelling, but your customers are thinking otherwise.
This is a good indication it's time to rethink your evaluation programme and determine which behaviours during customer interactions lead to better CX. As you rework your quality assurance, agent coaching sessions will include detailed training about which behaviours have a positive or negative impact on CX.
Helping agents understand how their behaviours on a customer call can impact both the company and their own success is a great way to inject purpose and meaning in their work and get everyone interested in improving CX.
4. Quantify the Drivers
Now that we have a better understanding of what customers are saying, it's time to quantify the top issues so their full impact can be understood and improvements can be prioritized. Here are a few ways to get this insight:
Disposition reports – Most contact centre platforms require agents to categorize customer interactions. Pull a report of those categories and correlate with customer survey data about those same interactions. Start by looking at categories with high volume and low customer satisfaction. Issues that are causing customer churn or impacting large numbers of customers are certain to catch the attention of executives.
Deep dive survey data – Many contact centres survey customers following interactions. And if you're not seeing success with voice survey responses, look to additional channels like chat or SMS surveys as many customers are starting to prefer a digital survey to that of voice. Read the verbatim customer feedback, coach agents when necessary, close the loop with upset customers, and quantify the top issues to share with the rest of the business.
Conduct targeted issue tracking studies – Early in my contact centre career, if I had a hunch there was a customer issue, I asked agents to keep a tally for every time they encountered that issue. In recent years I've discovered that speech analytics can do this heavy lifting for you, making it easy to pinpoint and quantify customer issues. New to speech analytics? Check out this eBook dispelling some of the myths around this technology.
Finally, if there's any question as to whether executives want to know what's going on in the contact centre, the answer is an emphatic YES! The problem traditionally has been that contact centre leaders don't communicate with the rest of the business in a language they understand.
With these tips I've shared, you can not only identify issues, but properly quantify them, working together to make meaningful improvements to your customer experience and business.
This blog post has been re-published by kind permission of 8x8 – View the
Original Article
For more information about 8x8 - visit the
8x8 Website