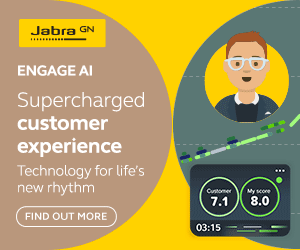 Jabra urge contact centres to bring forward their cloud transformation plans to help create a truly flexible customer experience.
Contact centres have experienced major disruption during 2020, highlighting the need for agility and adaptability.
Accelerating digital contact centre cloud transformation to deliver resilient customer service in the future is therefore a key goal for many organizations.
Accelerated Cloud Revolution
Customer experience has rapidly evolved in the last decade, as it has grown to become the most important brand differentiator.
Contact centres have been on a similar trajectory within this evolution, leading as a customer experience channel despite the growth in digital channels, IVR and chatbot and other AI solutions.
With this digital transformation, many contact centres have migrated to cloud infrastructure and solutions. And when the COVID-19 pandemic disrupted the industry in 2020, cloud solutions became even more important during this high-demand period.
So let's discuss some of the advantages of cloud-based digital contact centres for delivering great customer satisfaction with teams of remote agents.
Improved Contact Centre Operations
In one piece of research, companies that shifted their on-premise contact centre operations to cloud contact centres saw immediate results. 72% saw improved customer service, 70% improved their agent efficiency and 71% improved scalability.
Cloud omnichannel capabilities further enable the transfer of customer contacts between channels, freeing up agents for the most important and complex customer calls.
Of the companies that shifted to cloud contact centres, 72% saw improved customer service, 70% improved their agent efficiency and 71% improved scalability.
At-Home Agent Enablement
The COVID-19 pandemic forced traditional on-premise contact centres to shift to remote work and at-home agents. Post-pandemic, an estimated 70% of agents will remain home, which is proven to boost agent retention, work satisfaction and engagement.
Importantly, cloud-based tools allow you to still monitor agent and team performance.
With the right audio hardware, contact centres can maintain quality control, enable analytics, and monitor performance indicators.
Using data from headsets, managers can measure and track if an agent's background home environment is too loud and if the agent can be heard. They can also see who is talking and the length and number of calls.
Scalability
Besides the many benefits for agents, cloud-based solutions allow contact centres to save costs by effectively scaling up and down in order to meet demand in this turbulent time.
You also have no need for a physical resource when catering to these demand changes. These scalable solutions empower businesses to deliver customer service with agile scalability and adaptability.
As contact centre leaders plan for their longer-term recover phase, they must re-evaluate their digital and cloud transformations.
The right cloud and audio technology can improve agent retention and happiness while further delivering insights and analytics on customer satisfaction.
At the same time, contact centres can remain agile and save on costs while incorporating the newest channels and technologies to handle seamless customer experiences.
This blog post has been re-published by kind permission of Jabra – View the
Original Article
For more information about Jabra - visit the
Jabra Website