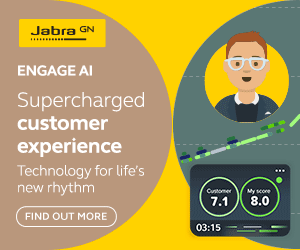 Holger Reisinger at Jabra provides insights on how to create trust with new employees.
Signed, sealed, delivered. In 2021, this is what starting a new job looks like. Virtual interviews unfold, digital-ink signatures are pasted into on-screen contracts and your office-in-a-box is delivered to wherever you've created your lockdown terrarium.
A location replete with laptop, headset, webcam and all of the technology you need to connect with your virtual team. But then what? As we further settle into the seats of our hybrid working setups, maintaining culture and social capital remains a central conversation.
As vaccination programs forge ahead around the world, our office fantasies of perfectly balanced hybrid work are still one too many virtual calls and meetings away.
So, how do we feed the firebox of trust to keep the piston rods driving us forward? What about those who have never drunk from the culture watercooler of an organization's offices? How do you not only get your new hires operationally settled, but also fuel rather than dilute your company culture?
When an organization is only as strong as its onboarding plan, bringing people into teams is more important now than ever before.
As many organizations are now planning their growth ahead, here are the things you need to focus on to cultivate high trust, increase productivity and drive performance with new hires.
The Neuroscience of Trust
Neuroeconomist Paul Zak spent over eight years studying what makes people happy at work and learned that trust among team members was essential for productive work. What he found was that higher oxytocin levels in individuals motivate more trustworthiness and empathy among colleagues.
People who work for high-trust companies have less stress and burnout along with greater productivity, engagement and energy. If you're welcoming new starters, here are some of the ways in which you can go about cultivating and fast-tracking trust in your teams.
Create Predictability
Former FBI hostage negotiator Chris Voss suggests that in the business world, trust is about creating predictability. With uncertainty in this economic downturn, employees want to show their contribution and value to a team and business, and many don't feel they are able to.
This type of chronic workplace stress is leading to increases in burnout. This is particularly heightened for new starters, who are unable to show commitment or presence in person and are not sure what is expected of them.
As far as your role as a manager is concerned, make sure you keep open and regular dialogues with your hires, and set expectations to form a pattern for your reports to know that you will never spring surprises on them.
Increase Your Focus on Relationships
With a shift to hybrid working, many of us haven't seen our colleagues in a year. Now, imagine joining a company with no idea how to interact with your colleagues and superiors at all.
While most onboarding usually involves countless meetings that weave together a cross-section of all departmental touchpoints, take it one step further to facilitate engagements that bring out the personalities in your team.
Facilitate meetings that are meant purely as social check-ins. It will pay back into your team's productivity and bring new starters into the culture of more established colleagues.
Share Information to Build Trust
Simon Sinek has famously identified how performance measures in organizations are high, but trust measurements are almost non-existent. Time and time again, we've seen high trust paying into productivity, high-performing individuals and high-performing organizations.
A part of this starts with your ability to share information as a leader. Make sure you keep that tap open, with information shared extrinsically, regularly and openly.
You can do this with your team by bringing them in on appropriate updates from closed-door meetings, aligning the work they do to the broader strategy and vision of the company or sharing more personal information in check-ins to let them know it is okay to bring that side of their lives into work, too.
Reward Good Work
When you have a new hire, it can take some time to figure out their working style. But many managers have struggled to trust their employees in fully remote or hybrid setups, especially when they are new.
While on the one hand, you might feel a greater need to supervise their first few weeks, it is also important to let your new hires choose how they work, and invite them to be open in what environment they feel they will do their best work.
This sense of imparted trust will develop more loyalty, trust and a sense of buy-in to your broader goals and objectives.
Compensate for Presence
Not only are the in-person ad-hoc check-ins and signals that we're performing well missing in remote work, but oftentimes, the visual cues through which most communication is conveyed are fenced in by built-in audio and video. This leads to a lack of presence in virtual environments.
Wider-angle cameras and high-quality audio can remove background noise, help us concentrate more and engender closer contact with those we have only met virtually.
In making sure that your new hires are set up for a hybrid working environment, equipping them with good video and audio can help fast-track their relationship building and onboarding to a new team.
This blog post has been re-published by kind permission of Jabra – View the
Original Article
For more information about Jabra - visit the
Jabra Website