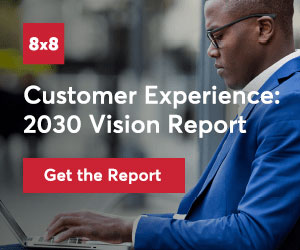 Quickly and unexpectedly, the pandemic evolved the way we work to make flexibility both the norm and expectation. It's incredible to reflect on the immense role flexible and remote work played across many organizations during the pandemic.
These policies acted as a lifeline for many office workers, enabling employees to keep their jobs while navigating remote work, childcare, and more. At 8×8, we have and will continue to stress the importance of flexible work for our employees, and many employers have now also come to this same conclusion.
In a recent survey, nearly 90% of employees said they now prefer a role with remote options. If that's the case, think of the labor market that will be lost out on by brands that insist on a full-time return to office.
So, as many leaders continue to navigate their office reopenings and flexible work models, what can we expect to see this year and beyond? Here are some predictions for the coming year.
1. 'Flexible Work' Will Be Defined by Your Employees
For flexible work policies to be most effective, they must be dictated by workers themselves based on their first-hand experience and needs to help reduce job turnover and boost employee morale.
Dictating that employees come to the office every Tuesday, Wednesday and Thursday and work remotely on other days may not be considered flexible work by some.
At the onset of the pandemic, we saw business leaders scramble to roll out flexible work initiatives – many for the first time – based on what they thought would help their employees most.
Now we'll see more organizations fine tuning their policies based on workers' experiences over the past year and a half, especially when it comes to making remote, hybrid, or work from anywhere setups equitable to all.
To accomplish this, leaders will need to nurture a culture where listening and open communication are embraced by all, and where employees can be trusted to set their own schedules so they can continue to be their best at home and at work (wherever that may be).
2. Mental Health Will Be Increasingly Prioritized in the Workplace
The added stress, isolation and disruption experienced during the pandemic has made mental health situations worse for many during both work and non-work hours.
But the return to office won't solve these issues either. In fact, in a recent McKinsey study of more than 2,900 people last year, one-third who had just returned to the office said going back had negatively affected their mental health.
Building a strong, resilient and successful company begins with the well-being of its employees. As a result, we'll see more business leaders prioritizing mental health in the workplace.
Whether that's incorporating more mental health training and protocols for managers, offering more resources and tools, or encouraging more flexible work benefits such as additional breaks and time off to help combat burnout, employers must prioritize ensuring their workforce is supported before they can truly move forward.
3. Technology Will Serve as an Enabler in the Evolution of Work
This year and beyond, we will see different technologies continue to drive remote, hybrid and work from anywhere initiatives.
The need for more seamless communications solutions that enable employees to work and collaborate in a hybrid or remote setting will not be going away anytime soon as they will continue to help support productivity and flexibility in the current and post-pandemic workforce.
We'll also see advances in technologies such as artificial intelligence, natural language processing, robotic process automation, and 5G drive more collaboration and productivity, regardless of location, by automating more menial tasks.
These developments have the potential to completely transform work for individuals, and enable a more flexible work environment overall.
As new workplace policies are put to the test around the world, it will be critical for organizations to remain vigilant and evolve their work practices as needed.
If organizations can't offer an innovative, work 2.0 experience, then they'll not only lose out on the ability to recruit from the widest and best talent pool possible, but they'll also miss out on the next generation of talent who just won't settle for subpar.
Competitors who deliver on new work from anywhere expectations and continue to lead and innovate will win by default.
This blog post has been re-published by kind permission of 8x8 – View the
Original Article
For more information about 8x8 - visit the
8x8 Website