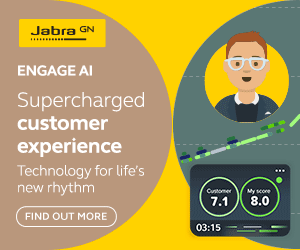 ­­­­­­­­­­­­­­­­­While good management practices are essential in fostering a sense of well-being amongst your workforce, they're only part of the solution; procuring inclusive, easy-to-use, and flexible collaboration IT infrastructure helps to decrease stress levels and increase the ease with which employees can work from anywhere, with anyone.
This can help facilitate a more productive and engaged workforce. When considering the long-term investment for hybrid collaboration technologies, leaders and IT decision-makers need to consider how their procurements make life better for employees.
Supporting Well-Being in Hybrid Teams
During the pandemic, organizations accelerated their digital transformation to connect distributed teams and enable virtual collaboration.
With employees now returning to the office, hybrid work poses new challenges in connecting teams and creating inclusive workspaces that bridge locations.
Leaders now have to consider how their decisions affect the well-being of employees who are divided between the office and home. This means considering how IT infrastructure bridges the distance between office and remote locations, and is inclusive for everyone.
The Impacts of Virtual Work
Throughout the COVID-19 pandemic, virtual meeting fatigue has been a major issue for many people collaborating remotely; limited body language, connectivity issues, and distorted video image are all associated with cognitive strain and miscommunication.
Recent Microsoft data even shows that back-to-back virtual meetings can decrease our ability to focus and engage. This means that in the long term, over-saturation of virtual meetings can lead to dips in performance and employee satisfaction.
In the hybrid future, this presents a whole new range of challenges related to employee well-being.
As 72% of U.S. executives are already planning new investment in tools for virtual collaboration to support hybrid working, how can they be sure that the tech tools they procure can provide an equal, healthy, and inclusive work experience for employees who are remote, in-office, or split between the two?
Reducing Cognitive Fatigue by Humanizing Virtual Collaboration
One Stanford study shows that the lack of mobility workers have during virtual meetings leads to fatigue and lowers cognitive performance. But hybrid meetings don't have to be this way: virtual collaboration can be done in a healthy manner.
"For remote workers," says Aurangzeb Khan, SVP of Intelligent Vision Systems at Jabra, "merging technologies, such as Edge AI and 180-degree field of view cameras, can help facilitate the feeling of being a full, equal participant in the meeting, lower cognitive load, and increase productivity.
Tools like Intelligent Zoom and Virtual Director allow remote meeting participants to follow the flow of conversation in a very natural and immersive way without having to toggle any controls or tools.
This creates a more life-like user experience, boosting productivity and allowing people to simply get to the task at hand."
Time Is Well-Being
To achieve a better work/life balance, leaders need to leverage the time gains offered by immersive and easy-to-use collaboration technologies.
Equipping employees with plug-and-play devices and avoiding the time losses caused by complicated technology allows teams to come together and collaborate efficiently. Employees can then pursue the other activities that support their well-being and engagement, both at work and at home.
Physical Safety in the Return to the Office
Gallup reports that 56% of U.S. employees are working remotely to avoid catching or spreading Covid-19. With employees ranking collaboration as one of the two most important elements they want in their workplace going forward (along with focus), this begs the question of how we can collaborate safely.
Equipping spaces with tools that will allow for safe social distance in collaboration activities will be an essential part of the solution.
Intelligent video systems with wide-angle cameras can capture all meeting participants and even send an audio or video cue to remind participants when they're exceeding the room's safe working capacity. This can ensure that teams remain healthy, while still getting the most out of the office space.
Facilitating Hybrid Inclusivity
Not everyone is equally comfortable in every type of work environment, be it office, virtual, or hybrid. But by breaking down the barriers between these spaces, technology can go a long way in facilitating a sense of inclusivity in hybrid teams.
To foster equity in hybrid meetings, leaders need to make sure that every meeting participant has the same amount of screen space, regardless of their location.
By placing these concerns of employee well-being, safety, and inclusivity at the centre of procurement considerations, leaders can ensure a fulfilled workforce and a strong return on IT investment.
This blog post has been re-published by kind permission of Jabra – View the
Original Article
For more information about Jabra - visit the
Jabra Website