Want to find out how the leaders at The Fuel Store are driving success across their frontline teams and delivering an amazing customer experience?
Our Editor, Megan Jones, shares 20 top tips and advice she learnt from visiting The Fuel Store's HQ in Birmingham.
1. Dedicate an Entire Role to Delivering New Offerings to Your Customers
Instead of just paying lip service to innovation, The Fuel Store has committed a full-time role to exploring new ideas and driving projects and programmes forward to deliver new initiatives for their customers. This helps them to stay at the forefront of the industry.
The Fuel Store Fact File
Call Volumes
Annual Inbound Calls
Circa 70,000 and growing.
Annual Outbound Calls
Circa 330,000 and growing
Other Channels
Web Chat
Contact Centre Size
Number of Seats
75
Number of Full-Time Agents
35 Outbound, Total 55
Technology
CRM
Microsoft Dynamics
Headsets
HP Poly
Wallboards
Gamma by Akixi
Call Recording
Advanced Comms
Call Scoring
Sales, Retention, Customer Service & Credit Control
Scripting
A Consolidation Sheet
Intranet
Share Point & Bamboo
Any other tech
Fuel AI
2. Play "Can You Unlock the Safe?"
Why not put a safe on the contact centre floor filled with a cash prize or vouchers?
Then, when targets or sales are met, individuals can choose a spot prize of choosing a possible code to try and unlock the safe.
The person who guesses correctly wins the prize inside!
3. Offer More Shift Flexibility if You Want People Back in the Office
The Fuel Store team have found that flexibility (for commitments such as doing the school run) is one of the key reasons for people wanting to work from home.
So, to help people switch to a hybrid working arrangement, they've offered increased flexibility – such as later starting shifts – to help their colleagues keep the flexibility they need whilst also spending more time in the office.
4. Have Fun With Your Team Names
To help lighten the mood and add an element of fun to the contact centre floor, why not get creative with your team names.
The outbound sales team at The Fuel Store have chosen 'The A-Team', 'Goodfellas', and 'The Invincibles'.
5. Put Agents' Photos on the Walls
To help personalize your contact centre floor, why not invite your agents to share their photos and have them blown up and put on the wall?
This is a great way to brighten the space, as well as let colleagues unleash their creative side.
6. Celebrate the End of the Week
As they are in a city centre location, where 95% of the staff use public transport, they have 'Friday Beers' in the office at the end of the week.
To make this happen, they have a drinks fridge in the kitchen that is filled up every Friday.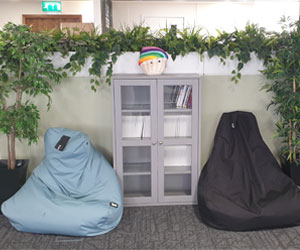 7. Create a Library on Your Contact Centre Floor
A great way to help support personal development and ongoing learning is to create your own mini-library on the contact centre floor where people can borrow and read from the available books.
You can take this one step further by also starting a book club to invite discussion and key learnings about the books on offer.
8. Create Breathing Space for New Training Initiatives to Bed In
Don't overload your team with training.
Instead, after each new initiative, create some breathing space of a week or two for the training to bed in – and even do some side-by-side sessions to check all looks ok – before moving on to the next layer of the training programme.
Also, avoid a blanket approach to training and lead with an "if you don't need it, you don't get it" approach to create personalized training plans that meet real needs.
If you are looking for some new ideas for your induction training, read our article: Clever Ideas for Induction Programmes
9. Give Shout-Outs to the Team
A great way to boost morale is to do shout-outs for individuals to celebrate on-the-spot "wow moments". Whether via email or a dedicated platform, encouraging managers and team leaders to make a habit of this can work wonders for positivity.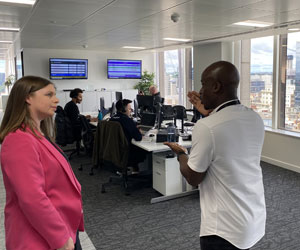 10. Have a Company Uniform to Create a Sense of Togetherness
One way to create a sense of togetherness is to create a company uniform of hoodies, gilets and polo shirts for colleagues to wear to the office, if they like.
11. Encourage the Frontline to Critique Their Own Calls
Instead of just letting your quality team or team leaders feedback back to individuals about performance, why not ask your agents to listen to their own calls and tell YOU what they could have done better?
You'll likely find that most people are their own best critics, and this becomes a valuable learning exercise and solid foundation for discussion.
12. Be Open and Honest With Customers
As the proverb goes 'honesty is the best policy'. That's why the team at The Fuel Store are committed to keeping their customers up to date with the latest insights and reasoning behind their services and pricing.
As their prices are at the whim of the crude oil markets, this is approach has really helped them through the challenges of the last few years – including the price surge brought on by the start of the Ukraine War.
13. Listen to Customers and Staff for Continuous Improvement Ideas
They always looking for ways to deliver new value-add initiatives. That's why they are always talking to their colleagues and customers and inviting feedback to help drive continuous improvement initiatives.
They also actively engage with a pool of VIP customers to seek feedback and refine new products.
To help train active listening in the call centre, read our article: How to Train Active Listening in the Call Centre – With Four Exercises
14. Build in Time to Reflect and Learn
When faced with a period of change or growth, one of the best things you can do is to reflect month-on-month on what went well and what could have gone better.
It can also help to poll your customers regularly to ask them how they feel the company is servicing their needs and where you could improve.
The most important thing of all is to then act on these learnings and drive genuine improvement across the contact centre.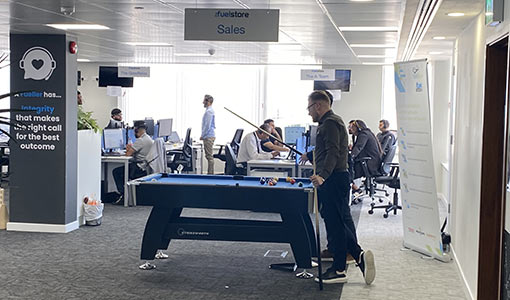 15. Look After Your Teams' Wellbeing
People go to work for engagement and a sense of purpose, so make sure you deliver on this.
Wellbeing initiatives include regular games and wellbeing days to increased holiday allowance, flexible working hours, career progression, and paid-for external courses for ongoing development.
16. Be Transparent About How People Earn Their Money
Everyone goes to work to earn money, so make sure you're very clear and transparent with the team – especially the outbound sales team – on how they go about earning that money. For example, explain how any bonus schemes are measured and how commission is calculated.
Also make sure that any changes to this are communicated well in advance. The Fuel Store make sure to give three months' notice of any changes, and even run the new commission system side by side with the existing one for the final month to help people feel at ease with the new system.
17. Train on Time Management and Other Useful Skills Too
Whilst the training curriculum includes skills like product knowledge and sales processes, The Fuel Store trainer also focuses some time on personal skills, such as time management, which are useful for the role and beyond.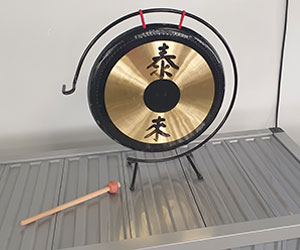 18. Celebrate Success With a Gong
Liven up the atmosphere on the contact centre floor with a gong for agents to hit every time they make a sale or hit a target.
You can also try replicating this with remote workers by sending round an email with everyone CC'd each time.
19. Explain the Information on Your Wallboards
A good way to help everyone understand and engage with the numbers displayed on your wallboards is to take the time to explain WHY these metrics are measured and the impact each one has on the customer experience and wider business.
20. Ask for TrustPilot Reviews
If you're looking to improve the external reputation of your organization, why not actively ask for TrustPilot reviews? It's a well-recognized site prospective customers will visit before making a decision to use your services.
One way to drive up the number of reviews you receive is to build it into your processes to routinely ask for them, such as building it into your call scripts and sending out emails to customers after they've used your services.
For more best practices and fun tips from other contact centres that we have visited, read our articles: