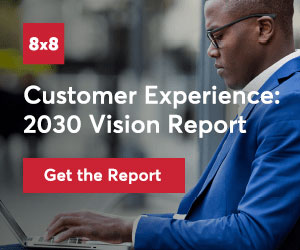 Just a few short years ago, many businesses discussed their "digital" strategy in future terms. Executives spoke to it in board meetings, CIOs shifted their focus to the cloud, and consultants urged best practices — but for most business leaders, "digital" remained a buzzword that represented a multi-year roadmap of incremental changes.
Everybody heard that it was important, but only the most progressive companies acted on it. In a 2017 study by McKinsey, about half of business leaders viewed digital transformation primarily as a cost-savings initiative, which resulted in those companies "treading water rather than moving forward."
Then the pandemic struck, and suddenly "digital" wasn't optional. It was the key to business survival. In the first few months of 2020, we all felt the whiplash of digital acceleration.
Within a few stressful months, businesses were forced over the tipping point, whether they were ready or not. A 2020 survey by McKinsey found that companies had "accelerated the digitization of their customer and supply-chain interactions and of their internal operations by three to four years."
This is the whiplash that we felt. On top of that, the perceived benefits and drivers for that change shifted dramatically. In contrast with the 2017 study, McKinsey found that more than 50% of business leaders in 2020 saw digital transformation as a way to "refocus the entire business" or gain "a competitive advantage" within their market, and only 10% saw the process as a cost-savings measure. The lesson had been learned.
So why are some businesses now thriving in this new digital market while others are limping along? The case for a digital strategy has been illustrated clearly over the past two years.
We all lived through it, yet some businesses never truly transformed. They adapted and survived, but ultimately did not change how they relate to their customers and employees. Those businesses have fallen into what I call a digital stopgap.
Here Are Three Reasons That Those Companies Have Failed to Make the Jump:
1. Cross-Functional Collaboration Has Not Been Truly Democratized Across the Company
Maybe department heads have purchased new technology so that their teams can be more flexible or productive in their work, but those changes have happened in silos.
The larger company remains compartmentalized; for example, the contact centre is still an island to itself, so the benefits of cross-functional collaboration are stifled.
Experts agree that a successful digital transformation initiative is driven from the top down and signals change to the entire organization through a company-wide technology shift and adoption plan. Transformation cannot happen on the periphery.
2. The Digital Data Ecosystem Remains a Patchwork of Segregated Data Sets With No Clear Links Between Them
I hear it all the time from leaders in sales and customer success: "we need an end-to-end view of our customers' experience."
Most companies have access to this information, but it may exist in ten different systems that are managed by multiple teams.
The process of consolidating and organizing that data manually is so daunting and repetitive that it's not worth the effort.
But without those insights, how can they really understand their customer experience (CX) strengths and weaknesses? To solve this problem, companies must deliberately invest in technologies that support a unified digital data ecosystem.
3. Employees Are Reluctant to Change
True digital transformation requires an upgrade to the organization's "hard wiring," which often requires an injection of new talent and perspectives.
This calls for hiring managers to widen their lens when searching for candidates, and now it's possible with greater acceptance of remote work.
Regardless of where the business is located, access to a global talent pool and the ability to hire remote employees is a competitive advantage.
Ultimately, the profile of successful digital transformation in 2022 is similar to what we saw from progressive companies pre-pandemic.
It still requires a broad vision, strategic investments, data-driven initiatives, and a culture shift within the organization.
The pandemic gave most companies an opportunity to jump forward and experiment with technology, but those who had the courage to move beyond a digital stopgap and reshape their organizations are the ones who have emerged ahead of the pack.
This blog post has been re-published by kind permission of 8x8 – View the
Original Article
For more information about 8x8 - visit the
8x8 Website