Outbound Dialling Applications
In a competitive marketplace successful companies acknowledge that waiting for a customer to contact you can be a risky strategy (and one that is likely, in most cases, to result in a long wait). Generating outbound calls to contact your customers (or potential customers) directly is a sure fire way to drive the effectiveness and efficiency of your business.
There are a number of reasons why you may want to proactively contact your customers. They include:
Proactive customer care
The biggest use of outbound dialling is for proactive customer care. This may be for things such as advising customers of a delivery date, or calling back a customer following an outbound call or an email contact.
Telemarketing
Contacting existing or potential customers to advise them of your services, current offers, and reasons why they should re-order your products and services. Although the primary function of telemarketing is to generate sales, it is also an excellent way to gather customer insight.
Debt collection
This often-overlooked function is critical for success in business. A timely call to customers who have overlooked their monthly invoice can pay dividends!
Customer Surveys
Knowledge is power! Understanding your customer preferences is key. Using customer insight (gained from your customer surveys) is an intelligent way to up- and cross-sell to your customers. Surveying your customers will not only help you to better understand them and what they think about you as a supplier, it will keep you in touch with them – and that is vital!
In the good old days these functions would have belonged to specific departments who would have employed people to work through lists of customers, prospects and debtors. The process was laborious and inefficient. Many calls would be made at the wrong time of the day, would reach the wrong person, or would receive an engaged tone.
Technology has changed much of this. Many successful companies now use dialling technology that can predict how long each call will take, when the next agent is likely to become available, when busy and quiet times in customer contact are likely to be, and reject calls that encounter an engaged tone – all of which helps to make your customer contact operation much more effective.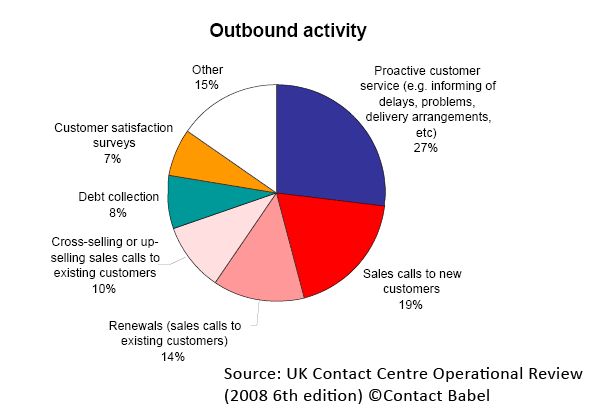 Further Reading
Contributors