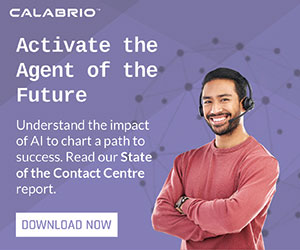 Rebecca Martin  of Calabrio introduces how speech analytics can enable you to better understand your customers, before asking 16 questions to test your customer knowledge. 
As you well know, contact centre data captured during your agents' interactions with customers can give you critical insights that help you outpace your competitors and evolve your business.
Today's rich combination of speech analytics, text analytics and desktop analytics can tell you a more comprehensive story about your customers, their needs and their experience. This knowledge helps you identify the root causes of customer complaints and better overcome the customer-related challenges plaguing your business.
You also can interpret what customers are trying to tell you better – through both verbal and non-verbal, and conscious and subconscious, cues – and more accurately anticipate their needs.
Despite these benefits, Forrester's 2017 study "Maximize Customer Data with Analytics" found one-third of decision makers said their contact centre staff don't use analytics to capture customer data insights because their day-to-day responsibilities keep them too busy.
Contact centre leaders such as those surveyed by Forrester might think they know their customers, but – without purpose-built contact centre analytics – they're likely missing out on key insights that could drive positive change at their companies.
Are you one of them? Let's find out.
The Modern Contact Centre: Questions That Determine if You Really Know Your Customer
1. What is your contact centre's average:
Time in queue
Hold time
Speed of answer rate
Handle time
Talk time
After Call Work (ACW) time
Contact abandonment rate
2. Are each of the above metrics increasing or decreasing? Do the metrics vary greatly between agents or geographic locations?
3. What is the current top complaint from your customers (by both category and specific details)?
4. About which product do your customers complain most? What is the most frequent complaint made about this product?
5. What is your customers' top complaint about your service level?
6. Can you tell if a customer is complaining because they want a better deal or because they actually intend to switch to your competitor? How accurate is the method you use? How do you know?
7. What is the top feature or capability your customers are asking you to add to your product(s)?
8. How easy is it for your customers to do business with you?
9. What are the top things you can do today to reduce the effort your customers need to expend in order to do business with you?
10. What is a customer's experience like with your company (via both quantified customer satisfaction ratings and anecdotal feedback – and across all departments, not just your contact centre)?
11. What are your customers' biggest frustrations with your company? Have those frustrations changed recently?
12. How can you improve the overall customer experience?
13. What are the top 3–5 contact centre metrics each of these departments—marketing, finance, human resources and product development—need from you in order to improve their own plans and programmes? When can you provide them with that information?
14. Can you easily identify your most passionate and evangelical customer advocates?
15. How often do your customers mention competitive brand names when interacting with your contact centre agents?
16. Which marketing campaigns do your customers mention when calling your contact centre?