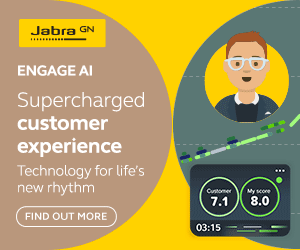 Jabra discuss how to create clear policies and guidelines for your remote contact centre team.
An increasing number of businesses are currently working on their digital transformation strategies to make their company more efficient, productive, and scalable.
And yet this approach regularly contradicts and pushes the boundaries for how many organizations operate in reality.
Managers carefully select the best talent by going through a lengthy recruitment process. Once they've hired the right candidate, they put them in an office environment where they are interrupted on average every 11 minutes by endless "quick questions".
According to a UC Irvine study, it will then take an employee around 25 minutes to get back to the place they were at before the distraction.
In a digital age where many employees should be able to perform their tasks from home, some businesses still have concerns around remote working.
Despite evidence suggesting that 86% of workers are more productive when working remotely, many believe that it will result in poor team spirit and work. Jabra's 2019 C-Suite Study further revealed the trust issues most managers have around empowering their employees with remote work.
Creating a Remote Work Culture
The reality is that remote workers are often more engaged and productive. It also empowers businesses to expand their search beyond geographical boundaries when looking for talent. A quick look at how Sid Sijbrandij built a $1 billion business where all 700 employees work remotely should be more than enough to convince doubters on what can happen if you get the right balance.
Basecamp co-founders David Heinemeier Hansson and Jason Fried are also well known for their remote working policy and bestselling books such as REMOTE: Office Not Required and REWORK.
The future of work is undoubtedly remote. According to LinkedIn's 2019 Talent Trends report, there has been a 78% increase in job posts mentioning workplace flexibility since 2016.
Companies that are embracing these trends are attempting to secure an early competitive edge over sluggish competitors with one foot firmly in the past.
Balance is the keyword here. Fears around poor communication and inability to track performance as employees work from the beach are largely unfounded. Your company culture and collaboration efforts do not need to suffer either. Remember, remote working is not an all-or-nothing proposition. It is one of many tools that enable your staff to thrive.
Employee experience in the digital transformation is also increasing in importance as selecting the right communications tools becomes an increasingly valuable proposition to attract and retain talent.
And while an abundance of workplace communication solutions are now available, our latest research cautions against creating too many channels for communicating, but rather being strategic in your selection of collaboration tools.
Intelligent Collaboration
When video conferencing first arrived in workplaces, bandwidth management and teething bugs left it as a resource reserved for C-Suites and large corporates.
The challenges were perfectly highlighted in an advert for Zoom. A few years ago, it was also widely believed that a lack of face-to-face interaction made virtual meetings less effective than in-person collaboration.
However, online meetings are now much more effective, with ever-advancing video solutions, bandwidth management and the advent of cloud-deployed video collaboration platforms.
Thanks to the growing popularity of video through social media and platforms like WhatsApp and Facetime, its ubiquity as a medium has further socialized it ahead of its adoption in the enterprise space.
The introduction of 180° panoramic video collaboration solutions is another development that can further adoption, replicating a natural human visual perspective, allowing for adaptive and all-inclusive meetings.
As human beings, we are social creatures that often heavily rely on non-verbal communication. Body language plays a significant part in how we connect. New video collaboration technology enhances this and can also increase engagement within remote teams.
Creating a Culture of Online Collaboration, Not Loneliness
A recent survey suggested that 86% of employees preferred to work alone to be productive. Escaping the distractions in the office can help employees become more efficient.
But too much of a good thing could make you feel lonely and isolated from your team. Or at least that is the narrative that often surrounds remote working.
Results from another survey of 19,000 global workers revealed that 55% of remote employees still feel part of their team. The reality is that it has never been easier to remain connected.
Tuning into Slack when your tasks are complete or attending video meetings will ensure that you can interact with teams throughout the day.
Instant messaging is another collaboration tool that connects people both in and out of the office. It can also be useful in ensuring that remote workers do not miss out on the camaraderie in the office.
The combination of hardware and software solutions allows you to hybridize your digital employee experience in a far more fluid state than asynchronous communication solutions allow for on their own.
Don't Lose the Human Touch
Despite having a wealth of tools to keep everyone connected, the promotion of team away days, in-person meetings and workshops are all equally important.
Are you looking for inspiration on how to get remote working right? Denmark is regularly cited as an example of a perfected flexible working culture by building everything around communication, collaboration, and personal responsibility.
In Jabra's most recent knowledge worker study, 87% of Danes reported being able to work from home, the highest of any country surveyed.
In our analogue past, there was a one-size-fits-all approach to both education and our work life. Thankfully our world has now evolved. Diversity of thought, inclusion, and flexibility are playing a crucial role in the modern workplace.
We all come from a variety of backgrounds and process information differently. Teams of introverts and extroverts can now play to their strengths rather than weaknesses.
As neurodiversity starts to become a factor in office designs, there's no reason why a home office cannot feature among the variety of settings that enhance employee performance.
There isn't one answer to what makes us comfortable or productive. But it is time to stop worrying about geographical boundaries and where your staff work.
Embedding a remote work culture should not be an all or nothing exercise. It's about giving your employees options to thrive in any given scenario.
It's about greater flexibility, providing tools to help make sure every voice is heard and that everyone feels a valued member of a team. It's about being human rather than being just a cog in the wheel.