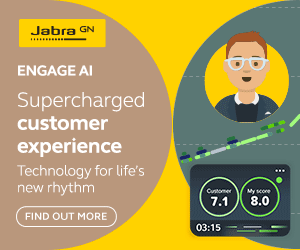 The Evolving World of Customer Experience
The way companies interact with customers is rapidly evolving. With more digital touchpoints than ever, companies are growing increasingly aware of the many micro-impressions that shape the customer's overall impression of the brand.
And while leaders need to consider how this broad array of touchpoints impacts the business, there's still one common interaction that is make or break for many customers: the call to customer service.
1 in 3 consumers say that they would likely abandon their favorite brand after a negative customer service interaction.
With 72% saying it's harder to reach a real person now than it was at the beginning of the pandemic, it's absolutely crucial that companies stay at the forefront of developments in customer experience (CX) tracking in order to boost the experience and create successful, long-lasting relationships with customers.
The CX Alphabet Soup
The world of CX has no shortage of key performance indicators (KPIs). In fact, in an attempt to simplify the vast sea of indicators to a (more) manageable number, a recent CX Today article identified what they consider to be the most important CX KPIs to track in 2022 and beyond, a list containing upward of 40 KPIs. NPS, CSAT, AHT, FCR: the list goes on.
While all of these are indeed valuable tools in and of themselves, companies often experience difficulties when trying to make sense of this complex web of metrics, considering how to weigh each one in the overall equation of the customer's experience.
Of the acronyms above, customer satisfaction scores (CSAT) come closest to the core of what CX is all about: determining whether the customer is satisfied with their experience.
However, in a world of increasing competitiveness, where every touchpoint with customers could make or break the relationship, CX KPIs must uncover more than just what customers say about their experience; they must also identify how customers feel about the experience.
Where Satisfaction Scores Come up Short
Customer satisfaction scores (CSAT) and their related KPI's are all about understanding if the customer is happy with the interaction, typically measured through surveys and/or speech-to-text-based speech analytics.
However, these methods inherently possess some limitations of their own. For example, the integrity of surveys is often compromised by low response rates and or biased responses (only the most positive or negative customers respond, or customers wanting to compete for a gift card and thinking a good review gives them a better shot). Similarly, they're only available post-call, after the initial experience has been cemented.
Additionally, though some speech-to-text analytics have become quite accurate tools to do exactly that – turn speech into text – words often don't convey our sentiment correctly.
What we say and how we say it are two entirely different things, the latter often telling us more about the true nature of a customer interaction. Similarly, speech-to-text solutions can be relatively expensive, especially when needing to scale across regions and languages.
They also regularly run into issues when assessing language through non-native accents or calls with poor audio quality (this is an entirely different issue altogether).
Finally, and similar to surveys, speech-to-text analytics often only offer us insight after the call itself, forcing retroactive rather than proactive solutions to improving the CX.
On top of customer satisfaction, leaders also need to think about advisor satisfaction, or whether advisors are happy and engaged in their job.
High rates of happiness and engagement at work are strongly correlated with higher performance and employee retention. At the moment, advisor satisfaction assessments fall victim to many of the same issues as CSAT scores: infrequent intervention and biased results.
Tone is the True Indicator of Sentiment, Meaning, and Experience
At their core, both customer satisfaction and advisor satisfaction are about sentiment and how we're feeling. Most people typically think the best predictor of this is either body language or the speech content/words. However, this isn't quite the reality.
While body language is an essential element of effective communication, it often supports the understanding of content.
On the other hand, the best predictor of how we're feeling is human tone, or the minute inflections in our voice that indicate frustration, relief, impatience, or any number of other emotions.
In fact, in many cases, voice alone is better for understanding and predicting emotions than voice and visual together.
Take one popular example making the case for tone of voice, which emphasizes different words in a 7-word sentence, each time altering its meaning:
I never said she stole the money.
I never said she stole the money.
I never said she stole the money.
I never said she stole the money.
I never said the stole the money.
I never said she stole the money.
Clearly, each of these sentences implies a different meaning, even though the text itself remains the same. With speech-to-text software alone, this meaning could never be understood, as such software isn't italicizing words based on tone and delivery.
Instead, tone analysis requires a new class of AI-driven software specifically designed to uncover the true meaning and sentiment conveyed in customer-advisor interactions.
Engage AI Introduces Two New KPI's for the contact centre
Jabra's newest AI-powered contact centre software solution, Engage AI, that brings tone and sentiment into the CX equation like never before. To do this, it zeros in on two new KPIs, Customer Sentiment and Advisor Tone, both of which use tone-of-voice analytics to uncover the true nature of the CX.
Customer Sentiment
This revolutionary tool evaluates a customer's sentiment in real time. From angry and frustrated to satisfied and surprised, Customer Sentiment uncovers the nuance of customer interactions and gives deep insight into the way customers respond to varying advisor techniques.
It can also give advisors real-time reminders of and draw attention to the state of their customers, leading them to become more engaged in the call.
Similarly, it can give supervisors an idea about which advisors need support and praise, boosting their team's overall performance on CSAT. Finally, it can help managers identify the most interesting calls for coaching.
While Customer Sentiment can nicely complement other means of addressing CSAT, such as surveys or text-based sentiment, it can also stand alone given its high predictive power.
For example, our research indicates that the customer sentiment in the first 30 seconds of the call can predict whether a customer is interested in buying a particular good or service.
By tracking this AI-informed KPI, companies can get the most out of the precious few moments they get to interact with customers.
Advisor Tone
Contrary to Customer Sentiment, Advisor Tone captures whether advisors themselves come across with their best voice: friendly and engaged as opposed to bored or outright angry.
For even the very best advisors, maintaining an energized and approachable tone throughout the course of a full workday can be challenging.
As such, there's high value in giving them friendly nudges whenever their tone drops below their best levels. In other words, maximizing their access to assistive tools can go a long way in driving a better CX.
Research indicates that an advisor's tone has incredible breadth as a KPI. If the tone of the advisor is friendly and energetic, it'll also be perceived as confident, professional, and sympathetic.
Similarly, when Advisor Tone is positive, customers are also very likely to rate the knowledge, politeness, and clarity of instructions highly. Finally, advisor tone is the single most important factor for understanding both customer sentiment and call duration.
AI is the Future of CX
Customer experience will only continue to grow in importance as markets become increasingly saturated with brands and competitors. It will remain the central focus for growing customer loyalty and increasing customer lifetime value.
Those companies that come out on top are the same ones that will leverage the power of AI-powered sentiment analysis early on, enabling every advisor to put their best foot forward and providing a premium experience to every customer.
This blog post has been re-published by kind permission of Jabra – View the
Original Article
For more information about Jabra - visit the
Jabra Website