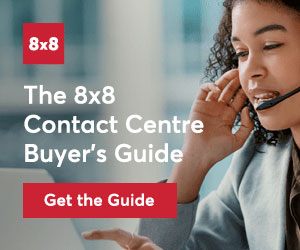 People power businesses. After all, what is a business without a workforce and a customer base? The biggest growth opportunities and the biggest challenges for any organization stem from the same source: its people.
And for a business to flourish, those people need to be able to communicate easily, efficiently, and instantaneously.
Unified Communications (UC) powers business transformation by streamlining the modern workplace. It gives employees the tools and the platform they need to connect, communicate and collaborate, as well as provide customer service.
By creating a single digital environment, UC delivers the ultimate business transformation advantage and powers agility.
How Unified Communications Enables Digital Transformation
Technology is often quoted as the key enabler of business transformation, and the terms digital and business transformation are often used interchangeably.
One thing is for sure: digital technology is transforming businesses. The Centre for Economics and Business Research (Cebr) identifies the major trends that will transform business by 2040 as:
the digital delivery of services (28% productivity gains)
flexible working (17% productivity gains)
richer data due to AI and analytics (90% productivity gains)
If we look at the "why" behind each of these factors, the common denominator is the need for people to connect, communicate, and collaborate more effectively, with fewer impediments.
Take how flexible working has accelerated due to the recent upheaval in the workplace. A proportion of the workforce now has a choice of in-office, remote or hybrid working.
This change has had a major impact on organizations of all sizes. The ones that thrive are those who have accommodated these changes, transforming their businesses to optimize the opportunities.
There's no doubt that digital technology, especially UC, has made this business transformation possible, particularly as many digital advances have evolved simply to allow people to work together better.
How are organizations looking to deliver greater agility to advance business transformation? More and more are adopting cloud-based solutions to deliver tailored experiences for employees, customers, suppliers, and candidates. Again, it's about the people.
Today's employees can collaborate virtually and serve customers from practically anywhere. Digital tools, but especially platform solutions that power video, voice, chat and team messaging, based on robust and compliant cybersecurity, cloud services and remote network access, have already transformed the way organizations operate and have assisted in those productivity increases that Cebr forecasts.
Unified Communications have unleashed productivity benefits for companies like Virgin Media Business, who use an integrated Unified Communications as a Service (UCaaS) and Contact Centre as a Service (CCaaS) product from 8×8.
Virgin Media Business's Product and Transformation Director said, [8×8's] "speed of platform evolution is constantly accelerating. Bringing UCaaS and CCaaS together on a single platform and fully integrating both into one common modular cloud is mind-blowing."
Benefits of an Integrated UC and CC Solution
Providing access to key communications tools from a single digital environment reduces the friction inherent in communication.
It gives people the freedom to use the appropriate tool and communicate with each other in the most effective way.
Customer experience, for example, is transformed by contact centre systems that enable the agent to access the customer's data from a single screen. Putting the solution in the cloud multiplies the benefits.
As Virgin Media Business went on to say, "embracing the full range of 8×8 solutions, from unified communications and collaboration tools to cloud contact centres, creates huge benefits.
It gives customers all their services from a single point. It saves them money on call costs, real estate, maintenance, support and more."
The data that can be harvested from UC solutions adds more value by providing operational insights. This can help to identify areas that need to change direction – or just correct their course – for better productivity and efficiency gain.
By 2040, Cebr stated the drive for more digital services, and better use of data could add £232 billion to UK GDP, boosting the economy for decades to come and bringing tangible benefits to businesses, employees, and society.
Agile organizations that adopt a single platform for UC and CC solutions to provide essential insights and cross-platform reporting as part of their digitalization strategy are reaping the benefits.
8×8 offers a single-platform solution that is secure and compliant, encourages integration between apps like Microsoft Teams and Salesforce, enables unified journey analytics across every employee and customer interaction, and delivers multiple benefits in terms of centralized administration and reporting to deliver simplified management and significant cost reductions.
Ultimately, it all comes down to reliability and ease of use to both simplify the user experience and improve the customer experience.
Unified Communications Improves Employee Experience
So what have we learned? It's all about power, people. Or rather – it's all about people power. People power business transformation, and business transformation and agility releases the power of the people.
This blog post has been re-published by kind permission of 8x8 – View the
Original Article
For more information about 8x8 - visit the
8x8 Website