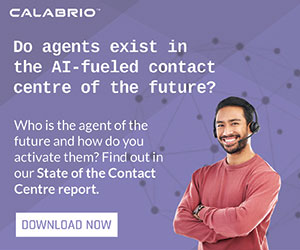 Ross Daniels at Calabrio shares insights on how to use rogue thinking to drive digital transformation.
Rogue thinking is all about how businesses and executive leaders can challenge the status quo—rationally. It's about thinking outside of the box while not making any reckless, uneducated decisions. It involves changing your mindset.
For example, while traditional thinkers might be more profit-focused, rogue thinkers are customer-focused.
Rogue thinking in the business world involves breaking rules, policies, and processes that prevent innovation while still adhering to rules that guard against abuse and harm. In short, it's going against the grain in a smart, calculated way.
Gartner recently released a report analyzing the idea of rogue thinking, how it shows up in the workplace, and how a seemingly simple mindset change could have everlasting effects on an organization.
While rogue thinking in practice shows up differently in every person and every position, there are some key habits and skills that are telling signs of rogue thinking:
No limits thinking, courageous risk-taking, and embracing rejections are a few prominent habits seen in successful rogue thinkers. They don't let the prospect of failure scare them.
Outcome-oriented thinking, mindful listening, and versatility are also commonly seen in rogue thinkers. They're social people focused on solving problems.
Some skills that are important to possess in rogue thinking include:
Communicating in multiple business languages
Expanding your influence
Being curious
Making connections to drive change
Rogue Thinking and Contact Centres
Contact centres and workforce managers can play a crucial role in an organization's ability to think rogue. Contact centres are inherently customer-focused, as they interact with customers every day. They hear the customer's side of the story and can bring that perspective to the table.
Contact centres can play an especially large role in rogue thinking when they are part of a connected enterprise. When all parts of the business are communicating and sharing data and ideas, it is much easier to think outside the box as there are many different perspectives contributing.
Contact centres can also help organizations think rogue through their abundance of data. When using software programs like Calabrio ONE, rich data dealing with customer needs is collected.
From this data, relevant customer-centric insights are available to be discovered. These insights could provide out-of-the-box ideas and initiatives that are backed by data, the foundation of rogue thinking.
contact centres are crucial touchpoints in an organization's ability to think rogue. Their data and customer-focused design provide unique perspectives that can drive change in thought and process.
For more on rogue thinking in the workplace, check out Gartner's full report here.
This blog post has been re-published by kind permission of Calabrio – View the
Original Article
For more information about Calabrio - visit the
Calabrio Website