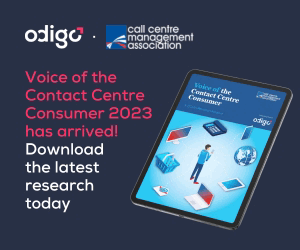 Richard Gregory looks at how customer service contact spikes are all too common in the utilities sector. Seasonal pressures, adverse weather conditions, infrastructure upgrades and now more than ever concern over rising costs drive customers to seek clarity and support. How can utilities companies cope with such predictable unpredictability?
Scalability is crucial when adapting to fluctuating demands, quite simply more hands on deck help to keep call queues down. Unfortunately though limiting any response to just doing more of the same isn't an efficient strategy.
How can Contact Centre as a Service (CCaaS) solutions be used not only to react but to adapt to the needs of the moment?
Knowing When to React
Mobilising any response takes time so if it's possible to get a heads up that things are brewing it can be invaluable.
Workforce management tools are for more than simply producing staffing rotas, they allow forecast management through in-depth views of omnichannel traffic history. If contact centres have the right staffing for routine fluctuations it's a springboard to adapting to sudden peaks.
Often supervisors are the ones making the tough decisions about whether to react or monitor a situation. This can be an agonising process but increasingly it's possible to inform that decision making and adapt using a rich data set.
Customised dashboards with metric based alerts, forecasts and knowledge coming from front line agents, thanks to integration of unified communication software, together form a much more complete picture of any emerging situations.
This data-driven approach underpinned by contact centre technology can then be translated into rapid mobilisation when action is indicated. Employee apps, notifications and the ability to work from home on a pay-per-use CCaaS pricing structure allows for rapid short-term expansion of contact centre operations.
There are times though when there simply aren't enough agents to go round no matter the level of workforce optimisation.
At these moments those receiving calls are under a great deal of pressure. During crisis management customer stress and worry result in a call queue filled with the type of emotionally charged queries that ideally need more time and attention.
Is it possible to strike a balance between firefighting and quality service when providing timely responses and customer confidence are both at stake?
Taking the Pressure Off With Automation
With energy price caps set to rise again in the UK in October 2022 utility companies need to be prepared to support customers and their agents fielding difficult calls.
Agent wellbeing is an important ongoing area of focus for contact centre culture and shouldn't rise to prominence only in tough times when there is less time to implement strategies.
On an operational level though automation can play a huge supporting role and it's not just about self-service. Multiple channels and customer journeys are enhanced by elements of automation which streamline experiences and increase efficiency.
Automated call qualification whether it's AI-enhanced or a standard IVR menu achieves maximum results when the options reflect real customer concerns and language.
Relevant call intents that are easy for customers to identify with make user interaction more intuitive and underpins the success of routing.
Knowing the key intents and the corresponding goals or specific tasks that need to be achieved allows automated contextual routing to intelligently match skill sets to details from the qualification process. The whole aim being to speed customers towards the resolution they need with the best available agent.
Clearly accurate customer knowledge is vital and informs the application of any technology to customer services. It also facilitates further automated applications like messages and alerts.
These can provide commonly sought information for either repetitive actions in a customer journey or rapidly tailored and deployed in special circumstances. This is not only automated and proactive but capable of reaching a wide audience.
Enhancing Access to Help
Many customers instinctively reach for the phone when they need help and in complex, urgent or high emotion situations that may well continue to be the case. However, the increasing number of available channels does present an opportunity to expand customer access to help.
By harnessing the trusted channels that people find easy to use in their everyday life customer service can be even more accessible. Rich content can not only supply information but links to knowledge articles and resources to build confidence in the messaging.
When there is more at stake there is often the desire to double-check information so providing links makes it easy for customers to gain confidence by doing just that without reaching for the phone.
Harnessing CCaaS Solutions in the Utility Sector
All of the aspects discussed here depend on accurate information. CCaaS solutions can create a virtuous circle where clear visibility of customer information informs decisions. These interactions contribute more knowledge and information further enhancing future experiences.
This relies on omnichannel capabilities to gather and integrate information from every available channel. To gain even greater value and ROI depends on the right strategies, informed decision making and careful monitoring of services.
Customisable analytics dashboards and supervisor tools which are part of a CCaaS solution also feed information back into contact centre decision making but what about strategy?
This blog post has been re-published by kind permission of Odigo – View the
Original Article
For more information about Odigo - visit the
Odigo Website