Jennifer Adams introduces some findings from new Poly research into the workplace of the future.
For nearly a decade, Poly have been studying workplace personas and how to match workstyles and employee behaviours to devices and technologies so that organizations can increase productivity.
They have conducted proprietary research into workplace personas to create archetypes based on the behavioural traits found in typical enterprise business employees.
Poly refresh the research every few years, and when they embarked on the study in 2020 with our consultants, Poly marvelled at how quickly the world was changing as a result of the pandemic.
In the past versions of our study, they have observed an emerging trend that as communication platforms and devices proliferate, people are increasingly able to work from different locations.
The shift was incremental – predictable, even. However, with our latest research, Poly saw a dramatic shift in the global enterprise workforce to working from home.
We couldn't help but wonder: What impact will this have on companies in the short term? And, perhaps more importantly, how will this impact the way we work in the future?
Empathy Leads the Way
Poly talked about delaying the research report until after the pandemic, but as I was reflecting on the seven workstyle personas, I was overcome with a wave of empathy.
I have spent the past decade trying to better understand these personas so that I can help share their stories and make life better for enterprise workers. And although each of these personas is a composite, they very accurately represent real people in our lives.
I thought about the Office Communicator –  we call her "Olivia" – who represents people that spend most of their time in the office… and they're only 1% likely to use video. She must be feeling incredibly distraught over having to lower the boundary between work and home life.
I thought about "Ray" the Road Warrior – who represents the colleagues who spend 50% of their time traveling. Having his wings clipped like this probably makes him feel anxious to get back out in the field to see customers and partners in person.
The decision became clear – Poly couldn't wait. They had to do the research now.
Given their historical view of workstyles, we are in a unique position to understand the current impact of the pandemic, something that will help our customers plan.
Poly's Latest Research Findings
This month (January 2021), Poly completed their latest round of personas research. The study surveyed more than 5,000 enterprise workers across eight different countries.
While these findings reveal perspectives at a unique point in time – during a global pandemic – Poly believe the behaviour shifts will have a long-term impact.
In their latest survey, Poly asked about pre-COVID-19 work behaviours as well as the impacts COVID-19 is having on the way people work now, and what they anticipate for the future (post-pandemic).
Here are a few things they learned …
1. Work Location Will Be More Flexible in the Future:
The workforce was already starting to work more flexibly pre-COVID (compared to our 2017 research), and users expect the flexibility to continue post-COVID.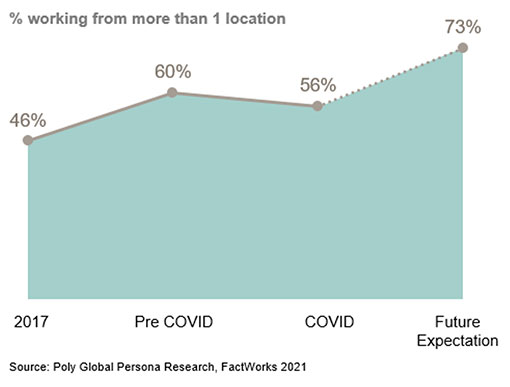 2. Home Is the New Office for Many
While this seems to be true, not everyone has a dedicated space to work or the right set of technology to be their most productive at home.
3. COVID-19 Has Led to a Rapid Growth of Conference Calls and Video Meetings
42% of global workstyles reported daily use of video pre-COVID. That number jumped to 63% during COVID.
Some personas are still reluctant to use conferencing technology – we know it isn't a preferred channel for all workstyles – but the research shows that this is an opportunity for companies to embrace personal video technology in addition to video-enabled meeting rooms.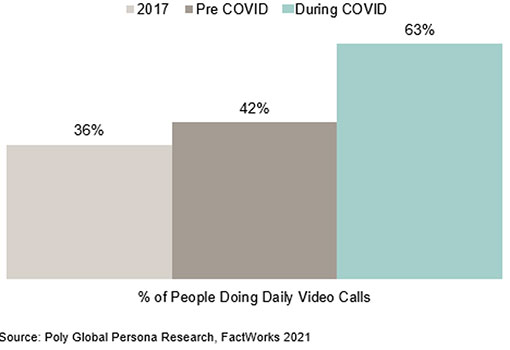 There's no doubt about it: workstyles are transforming as hybrid work environments become more prevalent.
Work is no longer a place and I believe the best way to understand the future of work is to understand the people who perform it. And without a doubt, those who pay attention to this research will have a more productive workforce for years to come.
Make sure you've identified personas within your business – it is critical to ensure everyone has the correct tools and devices to maximize efficiency and productivity.