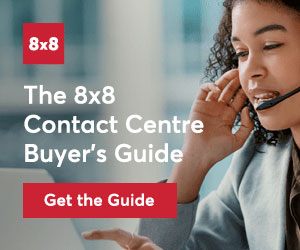 Tricia Morris at 8×8 outlines ten hybrid work statistics for 2023.
Despite increasing return to office calls by employers, a vast majority of employees are answering with a loud and clear "no, we won't go" in 2023 and beyond. This seems to prove especially true for Gen Z and millennial workers who will account for approximately 75% of the workforce by 2030.
For organizations evaluating or reevaluating their workplace and hiring strategies, or their communications and collaboration solutions, we've curated ten "take-note" hybrid and remote work statistics:
1. Sixty percent (60%) of IT and CX professionals believe that the workplace will be predominantly hybrid by 2030, while 33% believe the future of work will be fully remote or work from anywhere. This leaves just 7% who believe that work will return to predominantly in-office. Source: Future of Work: 2030 Vision Report (8×8)
2. Sixty percent (60%) of IT and CX leaders also believe that their organization will reduce its office space/real estate footprint and use the office primarily as a shared workspace for hybrid workers or client or team meetings. Source: Future of Work: 2030 Vision Report (8×8).
3. Of the more than 900 companies surveyed in Metrigy's Workplace Collaboration MetriCast 2022 study, roughly 27% had implemented a hot desking strategy post-pandemic to support hybrid work. Source: Understanding hot desking pros and cons for the hybrid office (Metrigy).
4. More than half (54%) of IT and CX leaders believe that remote work options should be available to every employee with the same rate of pay for remote workers as in-office peers. Source: Future of Work: 2030 Vision Report (8×8).
5. Just 6% of 70 million employees polled by Gallup say they desire to work entirely in-office going forward; 34% want a permanent work-from-home role. Source: Returning to the Office: The Current, Preferred, and Future State of Remote Work (Gallup).
6. In a similar poll of more than 1,000 business professionals on LinkedIn, 87% said they would not accept a role that required them to work in the corporate office from nine to five, five days a week. Source: LinkedIn poll (8×8).
7. An astounding 54% of employees currently in a work-from-home role said they would likely look for another job if they were made to return to the office full-time; 38% of employees currently in a hybrid workplace said the same. Source: The Future of Hybrid Work: 5 Key Questions Answered with Data (Gallup).
8. The main reason cited by workers for wanting to remain remote or hybrid is to avoid commute time. According to the American Time Use Survey, the shift to remote work during the pandemic gave Americans 60 million hours of time back that they would have spent driving to and from the office.
9. More than half of Gen Z survey respondents said hybrid workplace flexibility is a priority for them (68% of millennials feel the same). Just 24% of Gen Z workers prefer a full-time, in-person workplace; 21% would prefer to work remote all of the time.
Mental health, personal well-being, and work-life balance are priorities for Gen Z employees, according to multiple surveys. Source: Future of Work survey (Cosmopolitan).
10. Remote and hybrid work respondents proved to be 22% happier than workers in an onsite office environment and stayed in their jobs longer than full-time, in-office counterparts; 62% say they feel more productive in a remote work environment. Source: The State of Remote Work (Owl Labs).
This blog post has been re-published by kind permission of 8x8 – View the
Original Article
For more information about 8x8 - visit the
8x8 Website