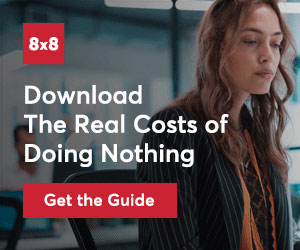 "Simplify, simplify."  – Henry David Thoreau, Walden
Michelle Fitzsimmons says there's no better time to follow Thoreau's advice than the spring.
It's a time for new beginnings, for clearing out the clutter and for setting your business up for success for the rest of the year.
It's the perfect time to reevaluate your communications systems, particularly if you're using more than one solution. Research conducted by 8×8 found that 92% of companies use two or more communications solutions, yet almost half of those companies are not completely satisfied.
Like having too much junk in your closet, using multiple communications systems can cause a number of headaches, including slow customer service, decreased employee collaboration and overwhelmed IT.
Organisations are discovering the benefits of using one cloud platform for all of their communications needs: they get all of the tools they need to connect with customers faster and smarter without the stress of managing multiple systems. There are additional benefits, including more engaged employees, faster deployment and greater security.
Here are five reasons why you should streamline your communications systems and—as Thoreau wrote more than 170 years ago—simplify for better results.
Better customer experience. According to Salesforce's 2018 State of the Connected Customer report, 57% of customers stopped buying from a business because a competitor delivered a better experience. There are myriad ways using multiple communications systems negatively affects customer experience, including inconsistent experiences across channels and slow response times. By moving to one cloud communications platform, you can ensure a seamless experience across channels. With customer relationship management software integrations, employees can quickly pull up customer information to provide more personalised care. If employees don't know the answer to a customer's question, they can use one click to connect with subject-matter experts within the company who can help. Each of these features helps to ensure positive customer experiences and higher customer satisfaction.
Increased collaboration. Eighty-one percent of office workers think peer collaboration makes them more productive, according to a 2018 study by social learning platform Braidio. Collaboration is crucial across industries and sectors, and digitally empowered employees expect to connect with co-workers no matter where they are located. If your organisation uses more than one collaboration platform or uses a solution that doesn't allow workers to seamlessly move from chat to voice to video conference, then true collaboration is hard to achieve. Consider one cloud communications solution that eliminates multiple applications and supports collaboration anytime, anywhere, across devices.
Improved IT productivity. When IT staff are forced to manage, update and maintain multiple communications systems, they spend less time on other business-critical projects. If your IT team is juggling different solutions for voice, video conferencing, messaging and contact centre, then it's time to move to one communications platform that delivers each of these capabilities. With a cloud-based solution, deployment and installation are fast and easy. You don't need to invest in physical infrastructure, and updates and maintenance are handled by your provider. This means there are fewer tasks on the IT to-do list.
Enhanced security. One area of concern that affects every business, regardless of size or industry, is data security. In fact, 58% of small businesses have experienced a cyberattack, according to Verizon's 2018 Data Breach Investigations Report. One way you can reduce your business's cybersecurity risk is to use an integrated communications solution that allows you to manage security across applications and devices. This also eliminates the risk posed by employees and departments using communications applications that don't have official approval from the organisation. Be sure you don't just pick any integrated communications solution, however. Look for one that meets rigorous security and compliance standards to ensure your organisation's and your customer's data is secure.
Smarter operations. When you use multiple communications systems, it's difficult to share, access or analyse data. Your organisation can break down data silos and get a complete picture of its business by using one communications platform. An integrated communications solution provides data-driven insights that allow your business to make smarter decisions, such as when to increase staff to meet call volume or provide additional training to employees.
Get More with One Cloud Communications Platform
If you're ready to optimise your communications, look no further than 8×8 X Series. X Series is one cloud solution for voice, video, chat and contact centre that delivers everything your business needs to improve customer experience, increase collaboration and deliver better results.