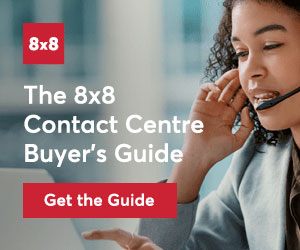 Andy Rawll at 8×8 explains that as the number of communication channels massively expands, so does the pressure on IT teams to maintain multiple systems while keeping costs down.
Moving unified communications (UC) and contact centres (CC) to cloud-based systems can deliver cost savings and productivity gains through better employee and customer experiences. These benefits are significant and can make a major impact on an organization's performance.
For example, it has been reported that integrating calls, meetings, messaging and contact centres onto a single cloud platform lowers total cost of ownership (TCO) by 56% compared to a multi-vendor strategy. Similarly, this approach is said to improve customer satisfaction across all touchpoints by 57%.
When it comes to IT, TCO includes hardware and software purchases, management and support, communications, end-user expenses and the cost of downtime, training, and other productivity losses. Essentially, every cost that your organization incurs for using a product over time.
When you compare the costs of on-premises systems with cloud-based ones, the argument for cloud is self-evident. There's no need to buy, house, maintain and upgrade servers. There's a reduced need for dedicated IT staff, separate security systems, firewalls, VPN, or complex wiring systems.
All kinds of costs are bundled up into the cloud service that would otherwise be itemized and require CAPEX sign-off, and that's just for each product.
Taking a Single-Vendor Approach
Now, also consider what happens when you use a range of vendors. That's where you incur other costs that might not seem immediately apparent.
No two vendors operate in the same way, so your internal accounting, legal, and compliance systems must factor in differences in supplier contracts. Each additional vendor that you pay for services equals additional payment processing time.
Each time a vendor contract is renewed, you pay again for the legal checks. A unified communications service means that you pay one vendor to bring the technology to your users, ensure it is secure and compliant, and take away the overhead and the worry.
Here are eight of the main ways that cloud-based communications systems, like Unified Communications as a Service (UCaaS) and Contact Center as a Service (CCaaS), and 8×8's eXperience Communications Platform optimize TCO for organizations:
1. Scalability.
Accommodating more than just normal fluctuations in a business's size, cloud-based systems can scale easily in response to M&A activity, special events, seasonality and business reorganization.
It's easy to spin up cloud contact center services for a seasonal promotion, for example, and it's just as easy to forget to spin down the services at the end, a common source of overspending and cloud wastage.
2. Predictable Costs.
A 'pay-per-user' UCaaS solution keeps costs visible and understood by operations and finance teams. Accounting is simplified, and there's no need for CAPEX procurement, or the administrative overhead of multiple purchase orders spread among different vendors.
3. Access to Advanced Features.
Before the cloud, if organizations wanted to take advantage of advanced features within a communications package, they often had to increase processing power and acquire specialized applications and servers.
Increasing infrastructure costs would put advanced features out of budget for some organizations, but cloud-based services eliminate this allowing them to only pay for actual users of the advanced features.
4. Agile Working.
As remote and hybrid work increases in the business environment, cloud systems mean there is no need for clunky VPNs and firewalls, etc., as everyone is effectively a remote worker.
This means that the employee and customer experience remain constant from whatever location, and the operational cost is the same anywhere.
5. Business Continuity.
Disaster recovery, data recovery, and failover capabilities are in the hands of the cloud services provider. Many, like 8×8, use multiple data centres around the world. In fact, 8×8's network is backed by the first platform-wide 99.999% uptime SLA and over 35 public and private data centres worldwide.
6. Evergreen Updating.
The software behind an integrated single-vendor UCaaS and CCaaS solution is always up to date. This offsets maintenance and project management overheads, and also offers a consistent version across all users and sites.
Everyone using the same version allows for seamless sharing and eliminates friction when employees communicate.
7. People Costs.
Cloud-based communications services deflect the human and capital costs associated with maintaining on-premises solutions.
It reduces the HR overheads involved in recruitment, training, development, shift planning, etc., but more importantly, releases valuable IT professionals' time to focus on core strategic activity.
Similarly, automated workflows remove the drudgery of mundane activities, saving users time and making their interactions more worthwhile and rewarding.
8. Flexibility.
Perhaps the final TCO argument for integrated single-vendor UCaaS and CCaaS cloud-based services is the flexibility they give an organization to experiment, adapt, react and even pivot.
At a time when events and markets change rapidly, and new entrants disrupt established markets, the need for agility is crucial for survival. Long lead times and layers of sign-off to bring in new tech are the death knell for innovation.
By increasing the speed of deployment of rapidly emerging AI-based features to improve agility, UCaaS and CCaaS services are inherently agile and flexible, and they allow you to be too.
It's little wonder that agile organizations are adopting cloud-based single platforms that offer AI and automated workflows as part of their cloud strategy to reduce TCO and improve all-round business efficiency.
This blog post has been re-published by kind permission of 8x8 – View the
Original Article
For more information about 8x8 - visit the
8x8 Website