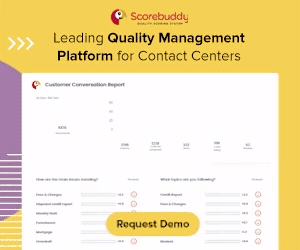 Call centres are collecting more data from consumers than ever before and, in return, people expect a better customer experience. When you fail to deliver a seamless customer journey, people are far less likely to do business with you. In fact, a recent study found that 74% of consumers are likely to buy based on positive customer experiences alone.
That point brings us to the important role that artificial intelligence (AI) is expected to play in call centres in 2022 and beyond. There is a driving motivation to adopt AI in call centres to not only improve customer service but also improve overall operational efficiency.
Using AI-enabled text analytics has become a big part of improving customer experience. AI's ability to analyze the unstructured and structured data gathered from customer interactions across various sources makes AI text analytics such a valuable power source for QA managers. Be it an email, chat, SMS, or other communicating medium, AI text analytics can capture all interactions and analyze them to gain better and more actionable customer insights.
This real-time analysis provides significant information related to customer requirements and their experiences. It helps agents to optimize their call centre operation and improve the satisfaction level of their customers.
With AI text analytics you can perform thorough information extraction, theme classification, sentiment, emotion and intention analysis. No doubt, you can gain a deeper understanding of your call centre operation and efficiency.
Monitoring 100% of Interactions
AI also helps greatly expand the volume of customer interactions that can be analyzed. Up until recently, one of the biggest struggles of contact centre quality monitoring was the low number of interactions with customers and prospects that could be monitored.
QA managers have a limited amount of time to manually analyze all the text conversations, emails, and help tickets and are typically forced to randomly select a few interactions to glean quality insight from.
With AI text analytics, you can automatically analyze 100% of all text-based interactions through natural language processing. This means that QA managers can now extract insight on topic, sentiment, and trends in the customer's own words, without additional manual effort.
Text analytics uses AI and machine learning to go in-depth into every customer interaction and track details that will help focus agents' efforts and enhance their training. By analyzing 100% of customer interactions, you can:
Identify conversations that seem abnormally long and evaluate potential causes of dissatisfaction.
Explore the situational context of customer interactions.
Categorize customer problems into groups or topics by volume.
Tag tickets and conversations based on what the customer means.
Addressing Backlog
Keeping pace with increasing call volumes and customer demand is becoming a herculean task. As such, backlog has become an issue in many call centres. Obviously, every unresolved ticket equals an unhappy customer, and tickets can pile up quickly.
That's why your contact centre needs processes and tools in place to reduce backlogs and better handle ticket volume.
To better manage and handle backlog you need to be able to categorize the content of all your customer support tickets and then gain a full understanding of the root cause of each problem on those tickets. Lack of time and manpower plays a key role in preventing call centres from reading every ticket and routing them as needed.
Once again, this is where AI text analytics can play a key role as this task is done automatically by reading and analyzing all the tickets in your backlog to provide vital in-depth insights and analysis. The ability to automatically dig down into the causes of your backlog and take the necessary steps to resolve tickets as quickly as possible is invaluable for successful call centre operation.
The AI Effect on Call Centre QA
Using a combination of technologies such as advanced voice engines, natural language processing (NLP) and highly advanced pattern recognition, AI technology has expanded the landscape of call centre quality assurance.
Typical call centre QA involves elements such as analyzing questions like why a customer perceived their call centre interaction a certain way and what specific aspects drove that opinion? What elements of the agent's communication played a role in forming their opinion?
If you have five different QA managers listen to the same call, you may get five different answers/opinions as to what may have gone right or wrong. This is an inherent flaw within human communications as a combination of our preconceived ideas, experience and culture plays a subtle role in our opinion formation.
New AI technologies today are allowing call centres to combine the best of human intelligence with the best of artificial intelligence to deepen a company's knowledge of what drives customer outcomes. AI is allowing call centres to seize upon the opportunity to finally overhaul call centre QA so that it delivers what it was originally intended to deliver: higher quality customer interactions.
More Personalized Future
Using AI, a wide range of scenarios, drivers and call centre interaction outcomes are being identified. Now companies and organizations can bolster their understanding of everything from marketing effectiveness to the impact of call centre service quality and the real drivers of customer perceptions.
With call volumes and customer queries doubling day-by-day, AI's role in assisting and navigating customer service agents towards higher percentages of customer resolutions is gaining significant traction.
The continued convergence of AI and call centres can fundamentally transform the customer service game, allowing for hyper-personalization of customer experiences based on the technology's ability for much deeper and more accurate data analysis.
Supporting Agents, Not Replacing
While the power of AI is going to have a profound impact on call centres well into the future, the human element will always be a vital part of the customer service experience. The question of whether AI will replace call centre agents is premature.
The use of AI agents will create more of a hybrid model for call centres as the tech gains greater acceptance in the space. While some customer inquiries will become automated with the rise of AI-powered call centre services, the most complex problems will still need to be solved by live agents.
The fact is, there will always be complicated issues that AI won't be able to handle as effectively as a live agent.
The purpose of using AI in call centres is to improve the customer experience and relieve human agents of time and energy spent on simple requests. AI can help customer support reps be more productive and have more engaging and personally satisfying conversations.
The bottom line is that it is all about using AI text analytics to gather more actionable customer data enabling you to make better decisions to improve call centre operations.
This blog post has been re-published by kind permission of Scorebuddy – View the
Original Article
For more information about Scorebuddy - visit the
Scorebuddy Website