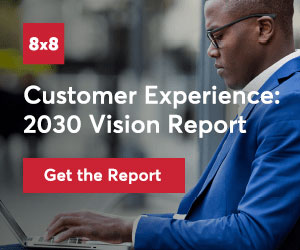 8×8 have announced that their client Bluecrest Health Screening has greatly increased its customer service ratings throughout a period of substantial growth.
Launched in 2012, Bluecrest Health Screening offers quick and simple 'Health MOTs' for the heart, arteries, kidneys and more, providing 60 different readings and health markers.
Customers include corporate clients such as Vitality, Danone and Capita as well as consumers.
Over 200,000 people have already benefited from its services in the UK. Since it started working with 8×8, the company has screened over 75,000 people, up 18% compared to 2017.
Before moving to 8×8 X Series, Bluecrest's legacy platform could not integrate inbound calls with outbound communications or the CRM solution. This meant that agents did not have a full view of the customer journey, which limited the level of customer service they could deliver.
The cloud contact centre provided by 8×8 X Series quickly transformed Bluecrest's contact centre operations. With features such as 8×8's integrated FAQ facility, and easier call transfer, more calls were resolved first time.
The new system enabled agents to manage inbound calls, emails and cases easily, while also allowing scope for future CRM integration – this led to a 12% increase in efficiency across the business.
On top of this, 8×8 X Series reduced the number of overflow calls. Bluecrest previously outsourced 30% of its calls as its legacy system could not cope with demand, this has been cut down to 5% which is a huge cost saving for the business.
Customer satisfaction levels have also improved, with overall ratings now at 93%.
With 8×8 X Series in place Bluecrest has expanded its private screening business in both the public and fast-growing corporate sector. With a customer-facing team that increased by 25% since the beginning of 2017, the team is now in a prime position to handle further growth.
Angela Rodbourne, Contact Centre Director at Bluecrest, said: "In our industry it is so important that we react quickly to our customers; health is always going to be a priority over everything else."
"We needed a communications platform that would allow us to keep pace with demand, help to better understand our customers' needs and give them the service they deserve."
"Before working with the 8×8 team, customer experience was difficult to measure, but now clear metrics are available and managers have access to full reporting within a single system." 
"It was one of the smoothest transitions to a new system I've ever experienced and was all up and running within four weeks. I felt supported throughout, we had no issues and we didn't lose a single call."
Mary Ellen Genovese, Managing Director of European Operations, 8×8, said: "Since we started working with Bluecrest, we have seen the business grow substantially."
"With one system of engagement across voice, video, collaboration and contact centre solutions, and one system of intelligence on a single cloud-based technology platform, the company's communications have turned around entirely.
"Customer queries are being resolved at first point of contact and outbound teams have ramped up activity thanks to the increase in levels of efficiency.
"The business is on a clear path for success and we're looking forward to supporting them as they continue to grow."