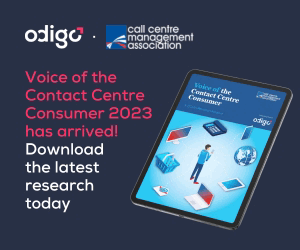 Vincent Lascoux at Odigo explains how to build a successful and sustainable conversational experience in customer service.
A brand is now expected to create content or services that are accessible all the time, everywhere and on all platforms. Bots (voicebot and chatbot) can be the answer to these new customer requirements: speed and personalisation of the conversational experience, availability and omnichannel.
They also help even out peaks in contact centre volume by automating low-priority, low-complexity requests, such as inquiries about opening hours.
Companies are already integrating these principles, and the conversational AI market is experiencing significant acceleration, with growth expected to exceed 30% by 2024. In customer service, the key to a successful conversational experience is conversational user experience (UX) expertise, but also support via an omnichannel, open and robust solution.
Build Conversational Journeys and Experiences Using a Proven UX Methodology
Successful customer journeys require Conversational UX Expertise to achieve smooth experiences. These minimise customer effort and provide quick access to the right answer. User experience specialists take into account many elements that guide the development of conversational experiences:
User intention or need,
Context of use,
History,
Technological limits.
Cathy Pearl, Design Manager on Google Assistant at Google, has summed up the goal of advances in conversational experiences as: "Teaching computers how to communicate more like humans, not the other way around."
The wording of bot dialogue will naturally impact a customer's answers and as a consequence the recognition rate, and how accurately the text or speech is recognised.
If a problem is encountered or met with customer silence, the system should be configured to provide alternative options, rephrase or use closed questions. Sometimes a break, so customers can look for extra information (like a policy number), and then pick up where they left off, is beneficial.
To increase bot accuracy, natural customer conversation can be used for training to help provide real-life examples of industry-specific language and the way customers commonly phrase their own queries.
The conversational experience of customers can take place over multiple channels, not just voice; provided the different AI services are integrated, this shared information can then also create more accurate personalisation of customer journeys.
However, in order to promote customer engagement, it is important to define a bot persona or personality that is consistent with the brand values and use cases. This can be expressed through the tone of voice, vocabulary and mannerisms, and use of emojis or "smalltalk". For a voicebot, the acoustic quality of the voice is also important to consider.
Natural language processing is how AI services process or understand customer speech or text and it is constantly maturing and being refined by experienced programmers and service providers.
To really leverage this ability across the spectrum of omnichannel services it is beneficial to be able to integrate third-party tools into a contact centre solution that has been designed with openness in mind.
Open Architecture and Third-Party Systems
When customers contact a brand on their channel of choice they expect a response, and normally a quick one. To achieve this, deploying bots can be key. However, for agents to follow on from these interactions they need visibility regardless of channel.
By providing a log or summary of these different interactions agents can quickly gain the context needed to take the right next step with a customer.
When a solution is designed to openly integrate with other types of innovative technology, such as customer relationship management platforms (CRM),  organisations can share even more data across their service capabilities for more refined personalisation.
It is also possible to leverage third-party AI through open solutions, so if an organisation has familiarity with a certain AI or has been using and refining it using ML they can choose to continue using it. Openness in this sense can be seen to enhance and advance the accuracy of conversational experiences for the customer.
This openness is echoed in the ideas of channel-less strategy. The ability for voice, email and SMS, for example, to lead on from each other without creating isolated data is a massive benefit to customers.
Sharing information, links and confirmations after calls, or the ability for these other channels to help mitigate peaks in call volume via digital deflection, only enhance value when the interactions are integrated and visible to agents and AI services.
A Robust Solution
Contact centres need to be able to react during periods of sudden high demand. An experienced solution provider that has both the technical expertise and reliable infrastructure can, thanks to the cloud, scale up a quality service for agents mobilising from home or the office.
The technology provided is not static, though; updates keep these services on the cutting-edge of innovation.
Today, traditional methods alone can not meet customers' demands for quick answers. Providing this kind of service in the future requires organisations to intelligently coordinate a spectrum of integrated real-time services via a robust and reliable solution.
In the 2022 ContactBabel UK Contact Centre Decision-Makers' Guide 48% of large organisations offered multichannel services but the context and history was lost if a customer moved between the channels.
The technology platform was cited as the main barrier to true omnichannel adoption, but it doesn't need to be.
Frost & Sullivan has recognised Odigo as the growth leader in Europe, but also as one of the most innovative in the Frost Radar: European CCaaS Market, 2021. Three key areas help differentiate the Odigo solution: Openness, Scalability and Robustness.
This blog post has been re-published by kind permission of Odigo – View the
Original Article
For more information about Odigo - visit the
Odigo Website