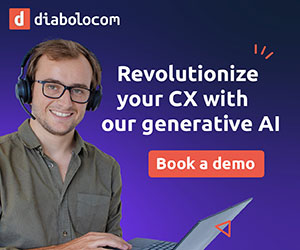 Diabolocom discuss some of the problems that insurance providers may face when redesigning their customer experience.
Meaningful customer interaction is the foundation of a personalized customer experience. However, in the insurance industry this can be a challenge.
Unlike other sectors such as banking, insurance typically involves fewer interactions and conversations with policyholders, which can result in a more generalized experience from the customer's point of view.
For an industry recognized as being "data intensive", this might seem contradictory. Yet it is important to distinguish the data used to calculate statistical risks from the individual customer data which can be leveraged to strengthen customer loyalty and retention.
In addition, policyholders are subscribing to products based on a need rather than desire or choice.
This is particularly true in property and casualty insurance which covers fire, accidents and miscellaneous hazards.
Here the contact opportunities are limited to four situations: the subscription, the declaration/management of a claim, the renegotiation of the premium and the termination.
For insurance companies, having the opportunity to communicate with policyholders is vital, particularly if that policyholder is considering cancelling their policy.
Being able to talk to the customer and perhaps make a commercial gesture might be enough to change the customer's mind and retain the potential "churner".
Exchanges are undoubtedly more frequent in personal insurance, especially in the health division. Whether it is to discuss a prior agreement or to follow up a refund request, it is rare that an insured person does not contact his or her complementary health in one way or another several times a year.
Customer Relationship Habits
Of course, insurance companies have made great efforts over the last two decades to enhance interactions and transactions with their policyholders. From telephone platforms and claims-sharing to personal spaces on companies' websites, to mobile applications giving access to various tracking and self-care tools.
According to Capgemini's World Insurance Report 2018, insurance customers are embracing and utilizing these tools, even if the physical agencies continue to be the first point of contact in the customer relationship.
The study notes, however, that the "tech-savvy" customers who are more comfortable with technologies clearly favour digital tools, as well as the 18-34-year-olds (millennial generation).
Traditional channels – voice and email – remain paramount, and insurers are increasingly relying on automation to increase their responsiveness and availability on these channels.
One example of this is AG2R LA MONDIALE, the first insurance group to specialize in personal protection in France.
Tanguy Vincent, Digital Solutions-Innovation Manager in the Customer Experience Management department at AGR2 LA MONDIALE, explains: "Phone and email accounts for 80% to 90% of channel usage. The rest mainly concerns the dynamic FAQ and social networks."
"With the high demand of the voice channel, we have developed tools to facilitate the experience at this level with an automatic SVI, as well as a customer recall and waiting solution."
"Currently, we are working on a chatbot for clients. This will serve as a useful point of contact, positioned somewhere between the generic answers available on the FAQ and the individualized response offered by a customer service advisor."
Facing Competition From the "BigTechs"
The BigTechs, global digital giants of the Global Academy of Finance and Management (GAFAM), have established a firm place in our daily lives and our consumption habits.
According to the World Insurance Report, they are now beginning to take hold in the insurance market thanks to their solid customer experience reputation.
Globally, 29.5% of customers – 12% more than in 2015 – would now be ready to purchase an insurance products from a BigTech or a subsidiary.
European customers are less inclined to consider turning to this type of company, but the possibility is gaining ground…
In the face of the ambitious BigTechs, traditional insurance players are more likely to ally with the InsurTech companies who use technological innovation to boost efficiency and attract specific segments of customers.
This is accelerating the digitalization of the insurance world, a must when more than 65% of respondents say that end-to-end personalization of their client path is their number one need.
Insurance companies require a digitally integrated system for improving the personalization of the customer experience.
A network which is capable of seamlessly linking the insurers with their customers and partners will establish a flow of "on-demand" information and services that disrupts the existing business models.
This will also facilitate real-time data collection via smart devices, both in the automotive and housing fields with sensors, detectors, etc, as well as health devices such as smart watches and bracelets.
Utilizing these points of contact allows for more proactive risk management. However, placing individuals under digital surveillance might not be something everyone agrees with…
For more information about Diabolocom – visit the Diabolocom Website