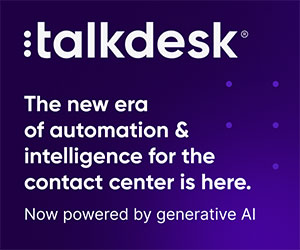 Bhavana Rana at Talkdesk outlines five things insurance and CX leaders need to know about AI.
When coupled with human intelligence, AI has the power to transform customer experience for insurance carriers.
Savvy insurance carriers know that customer experience (CX) is what gives their companies an edge over the competition. As customers' rising expectations meet an increase in available choices, the stakes are higher than ever.
The emergence of artificial intelligence (AI) technologies offers the insurance industry opportunities to improve customer experience at every stage of the life cycle.
Some insurers have started to adopt chatbots, but AI capabilities and benefits extend much further—AI models can help underwriters make accurate coverage decisions, suggest highly personalized products to customers, and even predict churn based on customer data.
Unsurprisingly, most insurance companies have so far implemented very few AI capabilities, if any. Diving deeper into AI opportunities can be intimidating.
And, insurers are particularly focused on risk management —carriers want to make sure that the technology is tried and tested before bringing it into the customer space.
Talkdesk and Property & Casualty 360 recently hosted a webinar to discuss the future of AI in the insurance industry, its impact on CX across the customer life cycle, and what insurance leaders will need to know as they implement AI in their own companies. For full details, watch the webinar on demand.
Here are five key takeaways from the webinar.
1. AI Will Play a Role Across the Entire Insurance Lifecycle
The role of AI is not limited to mundane customer service interactions such as changing an address or making a payment—although that is an application with the potential for a significant cost-cutting impact.
Instead, AI can automate and simplify many of the processes in the insurance lifecycle, including submission intakes, policy quotes, underwriting, claims adjustments, and sales.
For example, if a company receives submissions from dozens of brokers who send in data in a variety of formats and attachments, a small team of people could take several hours to read through the documents and enter the information into a policy system.
By comparison, an AI model could ingest that same variety of documents, extract the data, input the information, and arrive at a quote in a fraction of the time.
With the power of AI, insurers can offload manual tasks leading to cost reductions, time efficiencies, and an improved customer experience.
AI can also help generate revenue by identifying new coverage opportunities that may have been overlooked by customer service representatives, or by using predictive models to understand the effect of changes in policy rates.
Already, AI is helping insurers address a wide variety of pain points in their contact centres including call resolution, customer satisfaction, and employee retention.
2. AI Has the Potential to be the Most Significant Transformational Factor for Insurance
AI is the next transformative advancement to disrupt the industry and automate insurer workflows. AI is expected to reshape claims, distribution, and underwriting and pricing. We are already seeing this in action.
Processes such as insurance needs analyses on sales processes, product suitability analyses, and claims analyses on complex cases used to take days. But with AI, insurers can procure the necessary information in seconds.
3. AI Will Not Replace Humans in Insurance
Human intelligence and artificial intelligence are complementary. AI will excel in situations such as extracting information for unstructured data sets or figuring out resolutions to complex technical problems. But human-to-human interactions will always have a place in the insurance industry.
High performing front-line employees lead with empathy when interacting with policyholders who are often emotional or frustrated when reaching out about a claim.
While companies should leverage the many benefits of AI, automation, and self-service, the most effective approach is to employ a hybrid human AI/model that can be customized to fit the specific organization and its customers.
4. Insurers Have Work to do to Prepare for Implementing AI
Insurers must work to understand and centralize decades of legacy data before using it to train an AI model. Organizations also need to ensure that there's strategic alignment on goals for customer experience and future workflows, and agree on how those goals relate to today's models and processes.
Many insurance companies will need to develop an agile mentality and a willingness to adjust workflows quickly based on the data and feedback that an AI model could provide.
This includes providing the necessary tools for stakeholders across the organization to interface with the AI model appropriate for their job function.
It is also vital to look out for the potential pitfalls of AI, such as algorithmic bias, which can have broad reputational risks and legal consequences.
5. The Horizon for AI is Already Broadening
The next big change for AI will be a shift from experimentation to engineering as the technology enters the mainstream.
The application will also change, moving from a tool that improves efficiency, such as removing customer service representatives from easily automated processes—to effectiveness, such as helping underwriters make better coverage decisions.
Today, most use cases involve supervised learning models based on clearly labeled data sets, but in the future, businesses could find more applications for unsupervised models that allow for creativity over automation.
And while current AI models are usually focused on replicating what a human can do—albeit much faster—some experimental models are already surpassing human capacity.
AI Equips Insurers to Improve CX
The many benefits that AI offers—whether it's reducing employee effort or expediting policy quotes—will have a positive effect on CX in a time when customer loyalty is more important than ever.
Far from replacing humans in the insurance life cycle, AI is set to improve operations, deliver a better customer and employee experience, and provide opportunities to increase profits.
This blog post has been re-published by kind permission of Talkdesk – View the
Original Article
For more information about Talkdesk - visit the
Talkdesk Website