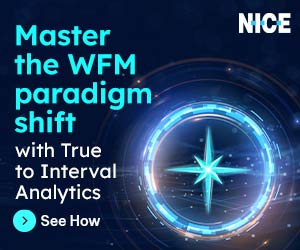 Nick Martin at NICE explains how to choose a digital ready WFM solution.
Digital channels have changed the landscape of the contact centre, giving workforce managers a lot to think about in the process.
From SMS to chat and social media, digital channels challenge traditional WFM assumptions that contacts are contiguous and sequential while raising questions about how to account for AHT and interpret KPIs.
At the same time, they create exciting new possibilities for forecasting and scheduling approaches; true workforce optimization requires optimizing for digital and as well as for skills-based-routing.
To handle these new complexities, WFM solutions must be able to flex and expand to handle these new complexities.  To do so effectively, a WFM solution needs to offer the ability to:
Define and prioritize new digital channels dynamically.
Handle simultaneous interactions.
Tailor session concurrency limits for individual employees.
Forecast and schedule based on the approach that makes the most sense for your business.
Do the heavy lifting on data interpretation to help users understand the decisions they need to make in managing the workforce.
While these controls are essential for any WFM solution operating in a digital environment, they're just the beginning – much more can be done to effectively collect data, calculate staffing needs, generate schedules and manage change in a digital world.
Reimagining service handling in a world in which consumers expect anytime, anywhere access to customer support and service requires true innovation, not just product enhancements.
This means a redesign (not just an update) of:
New data to extract, transform and load, which provides exacting details on issues like handle times, in-focus activities and employee performance.
Purpose-built engines designed to calculate requirements, conduct simulations and generate schedules in environments with many new simultaneous, interruptible, asynchronous and elevating contacts.
Solutions that consider how self-service and bots affect the schedules of human counterparts.
Tools to monitor and calculate individual cognitive load limits for various channels, so WFM managers and supervisors don't have to guesstimate how many simultaneous interactions an individual employee can handle. The ability to account for cognitive load is a true leap forward, as was skill-based routing.
Each of these elements is a meaty topic all of its own; we could fill pages and pages with relevant considerations.
What workforce managers in the modern contact centre fundamentally need is a WFM partner who sees the challenges of digital as part of an ongoing design philosophy, rather than a minor issue to work around. That digital design philosophy should be a central component of the WFM provider's strategy.
A WFM solution that is ready for digital enables businesses to do more than just get by – it enables them to truly create greater value for the business.
To stay competitive, businesses need a WFM solution ready for interactions that can go beyond the traditional – and a partner focused on helping businesses excel in the digital world.
This blog post has been re-published by kind permission of NICE – View the
Original Article
For more information about NICE - visit the
NICE Website