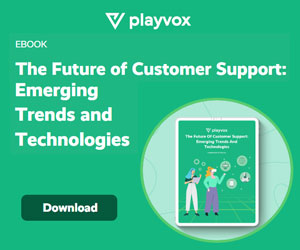 Jennifer Waite at Playvox explains the cloud contact centre best practices you should use in 2022.
The shift to the cloud only seemed to accelerate when the pandemic sent many workers home in the spring of 2020. And now, with more companies embracing a hybrid work environment, cloud-based solutions no longer seem optional but rather, business critical.
While many in the contact centre industry are slow to transition away from on-premise software, cloud adoption shows no signs of slowing. The market is projected to be more than $832 billion by 2025, up from an estimated $371.4 billion in 2020.
In the last year, contact centre teams that have embraced cloud-based solutions have learned some important lessons. Let's take a look at what our clients around the world, in industries ranging from financial services to online food service delivery, say are the cloud contact centre best practices they'll carry into 2022.
Customer Chit-Chat
There were around 6.4 billion smartphone users worldwide in 2021. With the global population hovering around 7.9 billion people, that puts smartphone use at more than 80 percent. But I bet if you ask most people how they use their devices, they'd say to text, chat, scroll through social media, stream videos or music, and to shop online.
In fact, if they're like me, making phone calls may be the device function that they use least!
Similarly, customers today expect to be able to reach your business in a variety of ways. A Harris poll found that 68% of respondents said that companies that only offer toll-free numbers seem outdated. In that same poll, 86% of respondents said they expect brands to offer multiple options and flexible times for interacting with their customer service teams.
The days of clients only being able to call your customer service agents between 8 a.m. and 5 p.m. are long gone. With cloud-based solutions, your team can embrace this contact centre best practice by providing communication channels that offer the accessibility and flexibility customers crave.
Messaging Apps
Cloud contact centre teams can quickly connect with clients on platforms such as WhatsApp and Facebook Messenger. Chat apps like these make it easy for customers to send you messages and images, and, yes, even to interact on a voice or video call.
These apps are free to businesses, they provide customers with near immediate responses, and most importantly, they're used by billions of people. In 2021, WhatsApp had two billion monthly users worldwide, Facebook Messenger counted 1.3 billion, and WeChat wasn't far behind with 1.2 billion monthly users.
With so many people already using these platforms, it's an easy way for your clients and employees to connect – regardless of where they're located.
Live Chat
Visitors to your company's website can use the live chat function to talk with your agents in real-time. Where a chatbot is a machine, live chat connects your customers to an actual agent who's interacting with them as they navigate your site.
A few key benefits of live chat include the ability for customers to get quick answers to help with purchasing decisions. Plus, live chat keeps site visitors engaged with your website longer and minimizes the risk of visitors losing interest. Also, when a customer does have an issue, the live chat functionality can help increase customer retention because tailored support is instant, leading to faster resolution.
Whether it's a messaging app or live chat, cloud contact centres can provide customers with the flexible and accessible channels they want and expect.
Maximize Workforce Engagement Management (WEM) Solutions
Cloud-based channels and solutions can enhance your customer experience. They can also help you manage your team's workload, and enhance the experience of your agents.
A cloud-based workforce management (WFM) solution gives you a real-time view into every agent and every channel. With this solution, you can forecast, schedule, and manage your team, whether they're working in their living room or the office conference room.
A WEM solution gives you the tools to empower your agents. Here are a few key ways these cloud-based solutions can unlock your team's full potential and enhance the employee experience.
Quality Management (QM) Solution
Traditional quality assurance measures are good but by the time an issue is revealed, your customer experience has likely already paid the price. Today's contact centre leaders need a QM solution that's built for digital channels so they can access the right data and tools to engage, coach and develop employees – before an issue occurs.
With a QM solution built for digital, you can filter your team's customer interactions by ticket type, priority, status, close date or even a custom field unique to your business. You can also set daily, weekly or monthly goals to ensure your agents get the right mix of customer interactions on a variety of channels.
Along with issue prevention, a digital-first QM solution gives your agents a voice. Your employees can ask for an evaluation review to clarify feedback and results. When agents' voices are heard, the culture of open feedback grows. This leads to improved employee morale and greater productivity – two benchmarks I bet most companies want to achieve in 2022 and every year!
Learning
Whether you're on-boarding a new team member, addressing a skills gap, or teaching your agents about a new product, put the training capabilities in your cloud-based WEM solution to work.
These multimedia tools are suitable for all learning styles and ages – from younger Gen Z workers to the Baby Boomers on your team. And because they're cloud-based, you can ensure that every employee has the same training experience every time.
While agent training impacts customer experience, it can also affect employee retention rates. Research shows that companies with strong cultures of learning see their retention rates increase up to 50%. Plus, of the workers surveyed, 70% said they're somewhat likely to leave their current job for a chance to work at a place known for investing in employee training and development.
Gamification
More contact centres are using gamification to complement their training programs and to incentivize teams. These tools can foster healthy competition, team collaboration, and provide a fun way for your agents to learn, grow, and earn rewards for performance improvement.
Cloud-based solutions are becoming table stakes for contact centres that seek to provide customers and employees with the flexibility and accessibility they crave.
This blog post has been re-published by kind permission of Playvox – View the
Original Article
For more information about Playvox - visit the
Playvox Website