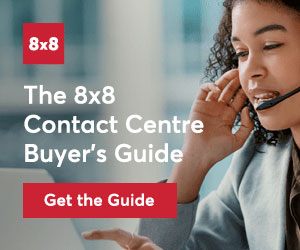 Jessica Smith at 8×8 shares ideas for creating a fun and engaging contact centre environment.
If you've heard of gamification in the context of a contact centre, you've most likely heard the term attached to fancy technology that has all the bells and whistles.
A lot of this tech is fantastic and continues to grow in popularity. But let's get real – there are a whole lot of ways to incentivize agents to achieve desired outcomes without sophisticated applications.
A major perk of incorporating gamification – your agents like the idea of a gamified environment. When surveyed, 89% of employees say that gamification makes them feel more productive at work, while 88% say gamification makes them happier.
With that in mind, here are some key ways to foster engagement and productivity using gamification without having to purchase new technology.
1. Know What Motivates Your Employees
Before you get started determining how you will incorporate gamification in your contact centre, be sure to have a solid understanding of what motivates your agents. We don't all operate the same way.
While many individuals may be coin-operated – excited by the potential to make some extra money or earn a monetary reward – others may find recognition or other special opportunities to be far more alluring and motivating.
Getting a sense for what makes your employees tick at an individual level as well as the collective will help you best structure incentives. For example, hitting certain personal metrics would be a great "pick your prize" incentive with a list of rewards to choose from. Then at the team level, try to find a balance of what will appeal to the collective.
A few examples of awards or prizes might be the following:
Money – Monetary rewards might include gift cards, cash, or even salary increases.
Gifts – Offer items like headphones, speakers, Fitbits, personalized swag, and the list goes on. Ideally you want to offer something that is either unique or feels like a big enough deal to be special.
Recognition – Some agents would much rather know that they are doing a good job and receive a sincere thank you than a tangible reward.
Time off – Who doesn't love a bonus day off from work? Time off can be a great incentive for reaching a timely goal or surpassing expectations in a given period of time. This is also highly motivating for a group or team to work towards.
2. Incentivize With the Right Performance Metrics
While it may seem straightforward to look at specific KPIs as part of your gamification approach, oftentimes the diligence around which metrics to focus on can be overlooked.
Too much focus on a single metric can result in improvement of that metric at the expense of others.
For example, if you're trying to improve customer satisfaction (CSAT), don't simply create a gamification programme that rewards an increase in CSAT scores. Agents may begin "survey begging," a behaviour that pressures customers into giving agents top marks. This can be off-putting to customers and agents lose focus on caring for customers.
Other agents might begin cherry-picking the interactions they handle if a customer is upset, knowing this might impact their CSAT rating.
When crafting your programme, think about the metrics that will pull the larger lever you're working to improve. Look to "fool-proof" the system, eliminating ways the programme might be gamed.
Focusing on a balanced set of metrics, perhaps taking into account both quantity of work and quality of work, can lead to more sustained improvement.
3. Rally Your Team Around a Common Goal
Lastly, a great way to encourage team mentality or foster positive collaboration is by uniting your agents around a common goal. This is also a great way for the team to feel connected to some of the larger initiatives within the contact centre or even the organization at large.
This approach can also help to build trust across the team and emphasize transparency around common goals.
Gamification in a team setting can be used for a variety of applications. Some that come to mind include:
Special promotions of service or goods – enlisting your agents to help move the needle with regard to a promotional offer
Achieving company-wide end of quarter or month goals
Improving customer experience
Supporting new product releases
Finding ways to drive the team towards hitting a goal during slower periods. Perhaps the team focuses on a special housekeeping project or works toward a training or certification goal.
Achieving service level goals during peak season
If you do decide to incorporate gamification at the team level, be sure to make the prize appealing across the board or even tailor it to individual preference as much as possible.
This is a great place to offer days/time off, paid lunches, special treats, event tickets, and more.
As one final closing thought for your gamification programme, keep in mind how you will track, monitor, and share the metrics. Both visibility and sustainability are crucial.
A contact centre platform that allows you to create custom metrics dashboards, schedule specific reports, or share insights on an individual and team basis, ensures that some form of accountability around the programme exists.
These give both you and your agents the necessary visibility to track progress regardless of where the team works – in the office or remotely.
With these key elements in mind, you're only a few steps away from igniting your team and cultivating a fun and engaging environment.