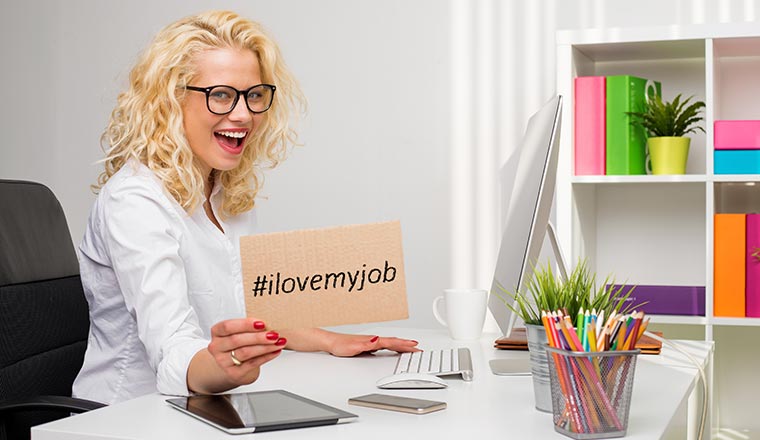 With February being the month of 'love', we're talking all about loving where you work!
Do you want your employees to fall 'in love' with their job?
Having happy contact centre employees leads to happy clients and customers.
Here are some tips to ensure that your team will stay with you for the long haul.
Build a Work Environment That Is Inviting
This is key to having agents who want to come to work, while making sure that your employees feel respected and valued.
In any line of work, especially in contact centres, research shows employees find comfort at work by having their voices heard.
Having a bright and colourful workplace and including motivational incentives is a great place to start building an inviting work space that people actually want to be part of.
Recognise Employees' Hard Work and Dedication
This is critical because most employees work harder when they know their work is being appreciated.
When an employee goes above and beyond, let them know you noticed and share their accomplishment with the organisation.
A common morale booster is having a reward system, where employees can choose their own rewards. These can include free lunch vouchers, movie tickets, or taking a half day off work.
The rewards don't have to be huge, grand gestures; it's more along the lines of 'it's the thought that counts'.
Also, these rewards should have a quick turnaround time. Having to wait 4–6 weeks for a prize is just as bad as not having one to begin with.
Another option is to create a fair and inclusive employee of the week/month programme. This can speak volumes about managers noticing when employees are a value to the company.
Listen to Employee Feedback
If you don't listening to what the people on the frontline are saying, they will become disheartened, and morale for the whole group will suffer.
An open policy that encourages employees to speak up when something is bothering them, and that wants constructive criticism, is also going to increase satisfaction, not only within your contact centre, but across all lines of business, and ultimately with your customers.
Another way to make sure agents are loving their job is to keep up with training materials. This is vital to ensure that if situations arise that they are unsure about, they have the training to handle anything.
Leading by example and the old adage of 'treat others how you want to be treated' goes a long way. A combination of some or all of these tips and recommendations will help spread the 'love' within your contact centre.
This blog post has been re-published by kind permission of Enghouse Interactive – View the original post
To find out more about Enghouse Interactive, visit their website.
---