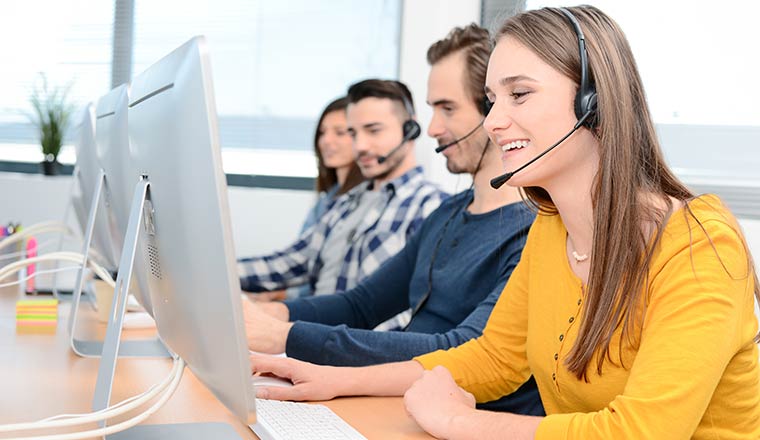 Grace Busby shares six benefits of working in a contact centre with us, highlighting why they can be a great place to work.
According to UNISON, UK contact centres employ roughly one million workers in around 5,000 centres, many in areas of historically high unemployment.
So, what attracts people to a career in the contact centre and what makes them such a great place to work?
1. Environment
There are different types of call centre, with a huge variety of roles. From finance to emergency services, contact centres deal with all sorts of enquiries.
There are also differences between inbound (customers phoning in) and outbound contact centres (agents calling customers, typically in a sales environment). And each contact centre has its own dynamics and culture.
So, whether you enjoy sales or prefer to handle customer enquiries, work in a big or a small operation or have an interest in a particular industry, there is a match for you.
2. Job Satisfaction
Problem solving is a key part of an employee's role regardless of what department you work in. While you will be working in collaboration with your team, you will be expected to take ownership of your calls and resolve any queries or problems that might come through to you.
Depending on the type of contact centre you work in, your day could involve helping an elderly lady reduce her broadband package or supporting someone who has been in an accident in making a claim.
For most people, this provides a brilliant sense of job satisfaction and fulfilment.
3. Excellent Bonuses
Like most work environments there are targets to work towards. However, contact centres typically offer great incentives and bonuses when targets are hit.
Some operations have been known to give away holidays and iPhones as well as more traditional cash incentives.
Most contact centre reward schemes encourage teamwork and continuous improvement, which drives a positive mentality across the centre.
4. Variety
While it might seem like a mundane task to be on the phone all day, the role of advisors is considered to be of great value to businesses.
Call centre work is all about communication, and 80% of contact centres now multiskill their agents, which means that you could be interacting with customers via phone, email and live chat.
Agents get to spend their day communicating with a diverse range of people, across a variety of platforms, and no two interactions are likely to be the same.
Working in contact centres also doesn't necessarily mean you'll be on the phones. There are various different job roles ranging from HR, team leaders, finance and workforce management, so it's about finding which role matches your skills.
5. Scope for Progression
Contact centres invest a lot of time and money in people development. The industry strongly believes that engaged and happy staff are more likely to deliver great service, so will reward and recognise their most committed employees.
With the variety of roles mentioned previously along with the fact technology is continually changing, there are usually multiple opportunities to progress or develop a new skill.
6. Social
The average contact centre employs over 100 staff . This means there's a rich and diverse range of people working together, and colleagues can turn into lifelong friends.
It's often said that there is a strong sense of camaraderie within the centre, and many organise staff social events to encourage team bonding. With a work hard, play hard attitude, contact centres can be a hub of social activity.
It's clear that contact centres are a great way to enhance and develop your skills, boost your CV, meet some fantastic people and offer an interesting working environment!
The rewards are there if you choose to climb the career ladder and team leaders in contact centres earn on average £5k more per annum than retail managers. So, what are you waiting for?
Thanks to Grace Busby, a Communications Executive at Centric Recruitment
Published On: 24th May 2018 - Last modified: 30th May 2018
Read more about - Industry Insights
---