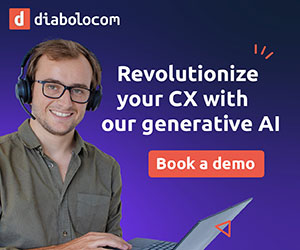 Adam Samuels of Diabolocom discusses how harnessing the power of intelligent tools and individual data in the contact centre can benefit the customer experience (CX).
Customer experience is a potent thing in determining a brand's success. According to the 2017 Gartner Customer Experience in Marketing Survey, in two years' time, 81% of marketers say they expect to be competing mostly or completely on the basis of CX, overtaking price and product.
Amidst news of dwindling British high street sales, major brands losing business due to poor customer service, and ever diversifying channels for customers to engage with brands, it seems the demand for superior customer experience is already under way.
The impact of this shift is evident in the emerging roles in organisations dedicated to enhancing customer service. More and more companies now employ a Chief Experience Officer (CXO) or Customer Experience Manager (CXM), reflecting how the customer journey is becoming a fundamental aspect of business's strategy.
Yet, in a crowded market of products and services all competing for the customer's attention, how can brands stand out and secure a loyal customer base?
The answer perhaps lies in the problem itself. With the sheer volume and scale of many brands who deal with thousands of customer interactions, consumers can be left feeling neglected and undervalued. The negative potential this has on a brand's profitability is clear: according to The Economist Intelligence Unit, 59% of companies see their sales increase faster when they prioritise investing in customer experience.
The Managing Director of John Lewis, Paula Nickolds, recently discussed how stores are increasingly required to be "somewhere where you experience a brand". It is not enough for brands to provide a service; the ultimate brand experience requires creating something memorable and personalised for the customer.
The foundation of great customer service is dependent upon data: customer names, knowledge and being able to anticipate their expectations. Call centres are an example of one industry which deals with high volumes of customers, so ensuring each caller receives a personalised level of service is crucial.
By analysing and reporting on customer data, a call agent is then equipped with the customer's details and requirements during the call via the CTI tool being connected to the brand's CRM system for example. This continuity helps to foster feelings of trust for the customer.
Developing a connection between the customer and the brand is applicable across any business and is essential to building better customer service.
Analysing customer opinion further provides concrete ways to improve your brand. Customer surveys both measure satisfaction levels and identify areas for improvement, while taking care to respond to individual instances of dissatisfaction enhances the overall customer experience.
Finally, the wealth of Artificial Intelligence (AI) tools available now allows brands to continue their customer service even when their human employees are offline. From chatbots to voice recognition and emotional analysis features, any business from call centres to e-commerce sites can deliver fast and intuitive customer interactions which make the customer feel special.
Through harnessing the power of intelligent tools and leveraging individual data, businesses can generate a richer consumer understanding, and return the feeling of being unique to the customer journey.
To find out more visit the Diabolocom website: https://www.diabolocom.com