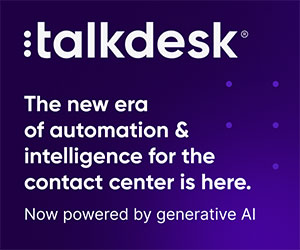 Taylor Johnson at Talkdesk gives five examples of customer service survey template examples that get results.
Understanding the pulse of your customers is crucial for business success, and there's no better way to achieve this than through customer satisfaction surveys.
These tools provide a wealth of insights that can significantly enhance your service delivery, boosting customer loyalty and driving business growth.
In this article, we'll delve into:
The importance of customer satisfaction surveys.
How to measure customer experience.
Customer satisfaction survey templates.
Impactful customer satisfaction survey questions.
How to implement customer feedback surveys in your contact centre.
The Importance of Building Customer Satisfaction Surveys
Customer satisfaction surveys are more than just a tool for measuring happiness. They offer critical insights that can drive strategic business decisions, particularly in contact centres where customer interaction is at its highest.
While modern analytics offer a range of data, the subjective feedback collected from customer satisfaction surveys provides unique perspectives about the quality and effectiveness of the service received.
These surveys act as a bridge, connecting businesses with their customers' thoughts, perceptions, and expectations.
They allow you to understand what works and what doesn't, helping you identify areas for improvement and innovation. They also allow customers to express their views, making them feel valued and heard.
Consistent deployment of these surveys, especially after implementing changes based on previous customer feedback, can help you evaluate how well these changes are received.
This feedback collection and implementation process leads to continuous improvement, enhancing customer loyalty and satisfaction over time.
How to Measure Customer Experience
To accurately assess customer experience, you also need to choose what metric you will use to collect the data.
There are a number of ways to do this:
Yes/no questions (Were you satisfied with the service you received? Yes / No)
Numerical (How satisfied were you on a scale of 1-5, 1-10, etc.)
Qualitative (Very satisfied, neutral, very unsatisfied, etc.)
Infographics/emoticons (These are great for web forms!)
Open-ended questions (Why did you decide to use our service? _____)
Five Customer Satisfaction Survey Templates
Below you'll find 5 sample customer satisfaction survey templates to help you measure customer experience:
1. Net Promoter Score Survey Template
Often this is the only question you need to ask. Based on Fred Reichheld's concept of the Net Promoter Score (NPS), this is an excellent measure of the contact centre customer experience as it provides fast and vital information about overall customer satisfaction.
You can stick to the numerical assessment or provide qualitative response options (very satisfied, not satisfied, etc.).
If you do decide to use the additional long answer question, make it optional for customers who don't feel like taking the time to write out a full answer.
2. Customer Satisfaction Score Survey Template
This is a straightforward assessment tool that offers a simple, yet effective method for understanding the overall satisfaction of your customers.
Adjusting the numerical scale to fit your needs allows you to delve into the finer points of the customer experience. This flexibility means you can capture varying degrees of customer sentiment and pinpoint specific areas that excel or need improvement.
The simplicity of this tool makes it easy for customers to respond, increasing the likelihood of obtaining valuable feedback.
3. Customer Effort Score Template
Besides overall satisfaction with the quality of their service, customers call you because they need to achieve a result.
Asking about overall customer satisfaction with what they achieved allows you to cut to the core of their main purpose in calling: getting results.
4. Open-Ended Questions Survey Template
The kind of information you get about customer satisfaction from open-ended customer survey questions can be a bit more esoteric, and should generally be used only with more loyal customers, as the time it takes to complete can be discouraging for some. Here are a few examples of open-ended questions:
Why did you decide to use our company's service?
Did you consider any of our competitors? If so, which one(s)?
What is most important to you when considering this type of company/product/service?
How could we improve your experience with our service?
What aspect of our service did you find most valuable?
Is there anything you disliked about our service?
Were your expectations met, exceeded, or not met?
What would you like us to offer that we currently do not?
Do you have any questions you were unable to answer from your call?
Would you recommend us to a friend or colleague, and why?
5. Long-Form Customer Satisfaction Survey
As with open-ended questions, a longer survey should only be used when you have a higher level of confidence in customer loyalty, or when more in-depth responses are necessary for contact centre quality management.
In addition to any of the questions shown above, here are some additional data points you may want to collect:
Choose the option that best describes your role: founder, executive, manager, contributor, and others.
How many people work at your company: 1-10, 11-50, 50-100, 100-500, etc.
How frequently do you use our product/service? (scale)
What feature do you value the most in our product/service? (long answer)
How well does our product/service meet your needs? (scale)
Rate the value for money of our product/service. (scale)
How likely are you to purchase from us again? (scale)
Do you have any suggestions for improving our product/service? (long answer)
Any additional comments? (long answer)
Implementing Customer Feedback Surveys in Your Contact Centre
There are several customer satisfaction survey templates, each offering its unique approach to question structure and presentation.
If you choose the right templates and questions, you can effectively assess the quality of your customers' experiences.
The careful selection of templates, appropriate distribution channels, and metrics can give you the insights needed to make every customer interaction a winning one.
FAQs
Are There Industry-Specific Customer Service Survey Templates?
Yes, there are industry-specific customer service survey templates available. These templates are tailored to specific sectors, allowing businesses to ask more relevant questions and get accurate feedback.
What Should I Do With Survey Feedback?
Once you've collected survey feedback, it's important to analyze the responses to identify patterns and trends.
This will help you understand your customer's needs and expectations better. Use this information to make necessary improvements in your products, services, or processes.
This blog post has been re-published by kind permission of Talkdesk – View the
Original Article
For more information about Talkdesk - visit the
Talkdesk Website