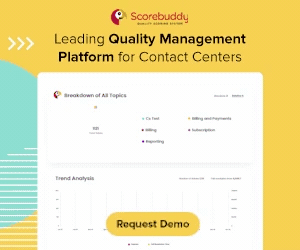 Too many customer service managers are unaware of how important their employees are. However, maintaining the happiness and motivation of support staff is a crucial element for success in every business.
For example, customers that receive outstanding customer service are 70 percent more likely to stay with the brand. This article is about how to go for customer service motivation in companies.
Why Is Customer Service Motivation Important?
The customer service department may be the most important in every company. Customers are attracted, retained, and supported before and after their initial purchase.
Almost 24 percent of the customers will return to the company after a positive experience with the customer service team for more than two years.
As a result, having a motivated customer service team is essential if you want to see tremendous success. They are the reason a business can generate any revenue at all.
Many managers probably have no idea how effective outstanding customer service is, so they cannot motivate the employees.
It would be ideal if you had a basic understanding of the importance of customer service staff.
How to Motivate Customer Service Agents?
Customer service agents are so important for brand loyalty. However, their performance and the customer service level will significantly affect customer experience.
Every business must know how to empower and motivate customer service agents to provide value to customers.
There are some approaches to achieving customer service motivation and maximizing the team's potential.
The following are some methods for customer service motivation in companies.
1. Find Customer Service Motivation Elements
When employees are inspired, you realize the company's full potential. However, managers cannot motivate their staff unless they determine what motivates them.
People on the team have varied motivations, so ask them what incentives they seek to feel inspired at work and what they want from the company to motivate them.
These are some practical tips on finding out what drives agents:
Engagement: Regular interaction with the service team, listening to their concerns, and preparing to act on the input can help to motivate them.
Surveys: One of the best ways to discover customer service motivation is employee surveys.
Recognition: Every company should show how vital customer service agents are to the company and how their work contributes to its success.
2. Equip the Customer Service Team With the Proper Tools
Over 53 percent of customers are inclined to abandon their shopping if they cannot get quick answers to their questions.
To function efficiently, the customer service agents always require the assistance of practical tools and technologies.
The supporting team feel disadvantaged if they do not have access to new systems and cannot provide outstanding customer service.
To ensure good customer engagement and real-time interactions, provide the customer support team with practical tools like chatbots, live chat, collaborative browsing, etc.
When a team has the proper tools, it can become more motivated and provide better service to the business's customers.
These are some helpful tools for providing support:
Chatbots: Businesses use intelligent chatbots to automate FAQs and decrease the need for human engagement.
Live chat: Live chat allows a customer support team to communicate with customers in real-time, right on the website or mobile app.
Co-browsing: Collaborative browsing allows employees to see customers' screens and guide them through complex procedures, filling forms, etc.
Feedback: Giving staff access to the feedback management system will aid them in capturing and analyzing client insights across all channels.
3. Provide Information About Products and Services
Customer service agents are frequently the cornerstones of a company since they deal with customer complaints, suggestions, and recalls.
They are in charge of changing negative consumer interactions into pleasant ones by answering questions.
Customer service agents handle customers swiftly if they are knowledgeable and thoroughly understand the products and services.
After all, recognizing the most important aspects of customer service training is key to developing a motivated team.
These are some excellent methods for training a team:
Keep the team informed: Train the service personnel to manage client inquiries to use the most current product effectively.
Interview customer service agents: Talking with customer service team members will give unit managers a better understanding of the items.
Product demos: It is critical to walk the service team through product demos to point out changes and their rationale, so everyone is on the same page.
Internal documentation: A company's customer support teams should be tapped for their vast experience, focusing on translating their knowledge into an internal knowledge base to assist new members.
4. Create an Effective Customer Service Process
Every customer service staff member requires the assistance of a defined process and established customer service communication tactics.
Support agents may feel unsure if there are no clear procedures, resulting in a delayed response time for clients.
The organization will be able to maintain the essential flow of support and confidently face any challenges thanks to the customer service method.
As a result, every manager should develop decision-making patterns to help the customer service team handle consumer encounters quickly and efficiently.
These are the best methods for making an effective customer service process:
Create a customer journey map: Every company must first create a journey map to comprehend the various stages that a consumer can go through before providing benchmark customer care.
Align customer service objectives with KPIs: When customer service goals are aligned with initial response time, resolution time, ticket inflow, and resolve problems, it brings up customer service motivation to meet a measurable target.
Create an escalation process for customer service: This allows the team to identify when a problem requires more engagement to resolve.
Service Level Agreement: This is a formalized agreement between a service provider and a customer that enables the customer service team to deliver services by agreed-upon criteria.
5. Set Realistic Goals for Customer Service Motivation
Due to a lack of clear goals, even the most excellent customer service staff might become lost and demotivated.
Organizations fail to become effective when their goals are unclear or are not well stated, cutting into productivity.
Every customer support team needs a comprehensive awareness of typical and high-priority activities to handle things appropriately.
Setting goals to meet the company's objectives should always be the priority for the managers in these fields.
The following is the process of setting realistic goals for the customer service team:
Set measurable goals: Customer service teams will be motivated to reach time-bound and measurable goals, and they will have a precise aim in mind.
Consider attainable targets: Take regular stock of the situation to ensure that support agents are not overwhelmed by unrealistic and unattainable targets.
Regulate workload: One of the most effective strategies to keep employees motivated is to regulate workload and relieve work pressure on the team so that the targets appear to be well within reach.
6. Organize Team-Building Activities
Team building fosters cohesion and motivates employees to strive toward a single objective in the workplace. Such activities are beneficial in creating bonds and connections amongst departments.
Team outings, enjoyable games, role-plays, and other such activities impact the customer service motivation for employees.
Managers can use team building to promote collaboration and strategically keep customer service staff motivated.
These are the top reasons to consider team-building activities:
Team building is always an opportunity to mingle, network, and get to know one another better since this can improve workplace morale and make people happier.
After putting regular team-building exercises in place, customer service team members will become closer and establish a sense of teamwork.
Regular team-bonding activities help build a culture of invention and creativity and inspire staff.
7. Act on Feedback From Agents for Customer Service Motivation
Feedback is a valuable tool for learning more about the customer service staff and leveraging their knowledge to improve customer care.
The customer service team is always on the front lines of customer encounters, so it values input more.
One of the strategies to attain customer service motivation and have a favorable impact on the team's overall performance is to use feedback.
These are some practical tips to put your customer service team's comments into practice:
One-on-one communication: Speaking with the customer care team one-on-one is an excellent method to get honest feedback and learn about client interactions.
Team meetings: Holding regular meetings can help collect feedback in the form of information to implement appropriate improvements to the product and services.
Suggestion box: A suggestion box is an excellent approach to getting feedback from team members who like to share ideas, information, or comments anonymously.
8. Create Healthy Competition Between Staff
Competition frequently brings out the best in individuals. Furthermore, when a manager throws customer service agents against one another, they are bound to find ways to outsmart one another, resulting in more profit.
Encourage healthy competition among your customer care team members to encourage them to be more creative and come up with new ideas. People work harder and become more productive when they compete in the workplace.
These are the best practices for implementing competition between team members:
Healthy competition is fun and fulfilling, but it can backfire if customer service team members feel they are losing something by participating.
Competition may not motivate all team members; some may get disengaged, which might backfire.
To minimize unwanted consequences, make sure the competition gives team members the option of joining or staying out.
9. Recognize the Efforts and Accomplishments for Customer Service Motivation
Customer service motivation is usually centred on appreciation. When the customer service team's efforts are overlooked, they will get demotivated no matter how efficient they are.
Furthermore, a motivated staff frequently lacks the excitement and energy needed to assist the organization to reach its goals.
Recognizing the agents' accomplishments helps managers to inspire customer service employees and make them feel inspired by the company's joint mission.
These are helpful tips to recognize the efforts of customer service agents:
Establish a reward system: Rewards can stimulate customer service personnel and encourage them to work harder to meet the company's goals.
Create a performance-based incentive programme: A performance-based incentive programme will inspire staff. It conveys gratitude and provides additional drive to complete the work.
Share recognitions on social media: Brands can use social media to display their employees' excellent work to acknowledge and reward their efforts.
Customer service agents are the first and maybe the only point of contact with the customers in many companies. A positive work environment for the support team results in happier and more loyal customers.
For more information about Scorebuddy - visit the
Scorebuddy Website