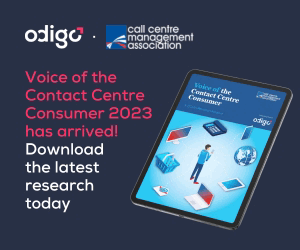 The rise of Contact Centre as a Service (CCaaS) models has introduced new technology that changes the role of contact centre agents.
Jake Gardiner at Odigo explores how to improve agent satisfaction and boost business results, as agents deal with evolving customer experience tech and expectations.
The modern contact centre has evolved rapidly in recent years to optimise customer experience and drive value for businesses. With that evolution has come a change in the role and status of the contact centre agent.
The role of the contact centre agent, like almost everything else in the last twelve months, is changing. The nature of this evolution was illuminated in a recent Gartner report: "In the next 10 years, service leaders foresee a large shift from simply handling customers' requests to using customer data to provide high-quality service that handles both the issue at hand and customers' end-to-end experience."
There is still a perception that contact centre agents are part of a "low-skilled" workforce. However, the role now covers a broader set of responsibilities.
As more brands opt for Contact Centre as a Service (CCaaS) solutions, the CCaaS "user" – that is, the agent – has had to become sophisticated, analytical and informed, maintaining the vital customer service traits of empathy and compassion. All while using real-time CX technology and data to inform decision-making.
This requires a mix of traditional soft skills and technical ability, from strong product knowledge to problem-solving. CCaaS agents are required to understand and navigate CX technology, interact with and operationalise real-time data and leverage insights to deliver rewarding customer experiences.
That's no easy task, with great customer experience a key differentiator for business success. As such, contact centre managers need to enhance experiences for customers and CCaaS agents alike. The question is: what can be done to use customer experience tech to enable agents to excel and improve satisfaction?
CX Technology and Intelligent Automation
The ability to automate repetitive tasks – such as data entry and retrieval – is an obvious way to enhance agent experiences.
Although automation has taken root in contact centres, more can be done to support agents. CX Today reports that 60% of contact centre agents say their company doesn't give them the right CX technology to address their challenges, while 34% say they don't have access to the right customer data.
Aside from saving time, better accuracy of results and the provision of customer experience tech and real-time CX data will allow agents to strengthen uniquely human attributes, such as creativity, judgement-based problem solving and empathetic interaction.
Access to Real-Time CX Data
More and more organisations are realising the importance of offering an omnichannel experience. Multiple platforms and tools are needed to deliver channel options to customers. For the agents who operate these touchpoints, it's crucial to have easy access to real-time CX data, so that they, too, can experience a seamless journey.
Evidence supports the value of using real-time CX data to drive decision-making. A recent report produced by McKinsey found that reactive, backwards-looking tools – such as the traditional customer feedback survey – were no longer serving the purpose of businesses whose customers expect rapid responses to concerns.
"Nearly two-thirds of respondents ranked the ability to act on CX issues in near real time as among their top three priorities, but only 13% of leaders expressed certainty that their organisations could achieve this level of rapid insight through existing systems."
The results of this study indicate what has become ever more apparent in recent years: contact centre leaders can no longer rely on phone banks and headsets to get the most out of their agents. They need to invest in sophisticated customer experience tech that empowers agents with actionable data and insights.
Contact centre managers will need to invest in learning and development programmes that encourage the upskilling of agents in new key areas, such as analytics and support.
This could take the form of personal shopping experiences delivered via contact centres, or agents advising on product maintenance issues with the aid of co-browsing CX technology.
For these kinds of scenarios to take place, agents need access to data, but also to the kind of training that can empower them to deliver further strategic value through CX technology.
Companies are turning to CCaaS providers to help them integrate modern customer experience tech into their operations.
83% of companies say that AI is a strategic priority in their path towards better CX technology and business management, and a move to CCaaS can provide the necessary differentiation as more and more businesses look for ways to use AI to gain a competitive edge.
Research indicates the potential of CCaaS as an industry and its strategic value to businesses. Fortune Business Insights recently released a report estimating a compound annual growth rate for the European CCaaS market of 16.4% up to 2027, while the UK has become a major player in this sector, employing around 1.2 million people across the country.
This blog post has been re-published by kind permission of Odigo – View the
Original Article
For more information about Odigo - visit the
Odigo Website